At a Glance
Expert's Rating
Pros
Hard to overdrive
Line input jack
USB charging jack
Cons
Gain levels a little low
No support for 4G iPod touch or iPhone 4
Our Verdict
When last we reviewed it, Blue Microphones' Mikey was a capable, though somewhat limited, iPod microphone. It was capable because it recorded good-sounding voice memos on an attached iPod, but limited because it offered just three gain settings and no line-in port. Today's Mikey makes strides in the right direction. It includes not only a line-in port that allows you to easily record audio from an external source, but also a USB port for charging the iPod while the Mikey is connected. While it has the same three gain settings, those settings have been tweaked so that they're less sensitive—making it very difficult to overdrive the gain on any of Mikey's settings.
The $80 Mikey is a cardioid condenser microphone that records 44.1kHz/16-bit audio at a fequency response of 35Hz to 20kHz. Unlike the first Mikey, it doesn't carry a speaker—not a huge loss as that speaker was very tinny. It can be angled to seven different positions. It works with the first three generations of the iPod touch, the second-through-fifth generations of the iPod nano, all iPod classics, the fifth generation iPod, and the iPhone 3GS and earlier. (So, no support for the 4G iPod touch and iPhone 4, which each have built-in microphones.) It's compatible with any iOS voice recording application—including Apple's Voice Memos—but the company recommends its free Blue FiRe recording app as it adds the ability to record over Mikey's threshold level as well as record for a user-specified period of time (an hour, for example) or until a time you specify (5:00 PM, for instance).
Where the first iteration of Mikey was easy to overdrive at the most sensitive setting, the latest Mikey is perhaps a bit too conservative. Because it is, it's worth making test recordings before committing to a particular setting. For example, the setting where Mikey is least sensitive—the one you'd use for a blaring concert recording—requires a lot of sound. With the first Mikey, I got reasonable results using this setting with Mikey set atop my piano. With the latest Mikey, this setting produces recordings that are too quiet. Similarly, where the old Mikey was plenty loud at the medium setting when recording voice notes, I found the most sensitive setting better for this purpose.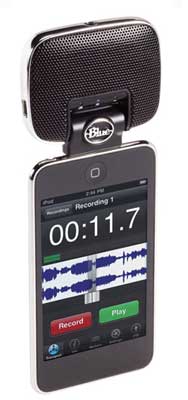 I recorded a few voice memos using both the new Mikey (attached to a 3G iPod touch) and Zoom's $99 H1 Handy Recorder ( ). I switched Mikey to the medium setting and switched the H1's Auto Level control on. Sure enough, the Mikey recording was much quieter. This is hardly a deal-killer, but it does mean that you have to adjust your expectations of what low, medium, and high settings might deliver and not be too disappointed when a faint sound isn't picked up terribly well with any of Mikey's settings.
Other than the fact that you can use your iPod as a field recorder, the most interesting thing about the new Mikey is its ability to record audio via its line input jack. This was a feature found on older third-party iPod microphones (none of which now work with modern iPods) that the original Mikey lacked. On the first review unit I received the port was too recessed for the miniplug cables I have, resulting in recordings that included the right channel at full volume and a left channel that echoed in the background. I asked for a second unit and it behaved as it should. The line recordings sounded fine from a variety of sources.
The trick to performing line input recordings is setting the proper volume level on the device you play from. Mikey's Gain switch has no influence when recording via the line input jack—switch it to low, medium, or high, and it will record at the same level. Instead, adjust the output volume of your audio source (another iPod, for example) and watch the recording meter in the app you're recording with. Do this correctly and you wind up with very good sounding recordings.
Macworld's buying advice
The second coming of Mikey—with its line input jack, ability to charge an attached device via a USB cable, and its resistance to being overdriven—addresses many of my criticisms of the first Mikey. It turns your iPod into a serviceable recorder (although quiet on the low and medium settings). Those on a budget who need a field recorder on a fairly routine basis would be better served with a dedicated and more flexible device such as the Zoom H1. But if you only occasionally require a pocketable recorder for an iPod you're carrying anyway, this Mikey is a reasonable choice.