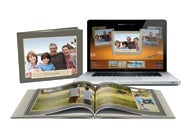 A personalized photo book, calendar, or print makes a great gift for friends and family members. With iPhoto and Aperture, you can easily design one of these custom printed gifts using photos already in your library, then order it from within the program.
A book is a great way to recap the year for friends and family who were there, or far-away loved ones who may have missed it. You can choose from a variety of customizable templates and include maps of your travels, add personal text, and rearrange photos and pages. Softcover books cost between $4 and $20, and hardcover books cost from $30 to $50. in All books come with 20 pages standard, but you can pay to add extra pages. Aperture users have access to the same books, but also a few third-party options. If you order one of these books, make sure you check shipping dates and times.
Photo calendars—which were briefly missing from iPhoto '11 but have since been added back in (make sure you have the latest software update if you don't see them)—are another fun year-end present. Available only from iPhoto, you can make a 12- or 24- month calendar with one or multiple photos on each month. You can even add special events from iPhoto or drop someone's photo onto their birthday. Calendars start at $20. iPhoto users can also make letterpress, folded, and flat cards.
If you'd rather leave the creating, scrapbooking, and framing to the giftee, printed photographs are available in 4 x 6, 5 x 7, or wallet sizes through both iPhoto and Aperture.
If you're planning on creating and ordering a card, book, photo, or calendar through Apple this holiday season, make sure you meet the impending shipping deadlines.
Deadlines: You only have a few days left to polish your creations and place your order, as Apple's cut-off date in the U.S. for products that will arrive by Christmas is December 18 with standard shipping, and December 19 with express, while the international cut-off date for supported countries is December 18. (Check Apple's Website for a list of supported countries.)
Updated 10:40 PT with deadlines for international users.