Circus Ponies—a company, not actual circus ponies—has released a version of its Mac OS X note-taking app, NoteBook, for the iPad. NoteBook is a powerful note-taking tool that includes a full-featured outliner with multi-font text, and lets you add files, diagrams, and sketches to your notes.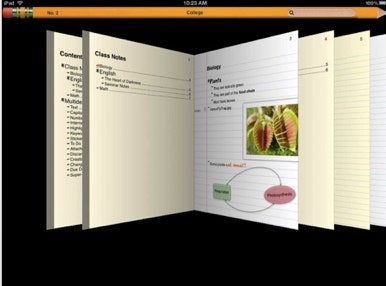 NoteBook features an interface that mimics the appearance of a real, paper notebook. You can flip through pages of your notes and organize them into sections and subsections, much like you would with a real notebook. You can take simple, "quick text" notes, or make more detailed notes using the app's full-featured outliner, which lets you create and manage hierarchical lists with sub-items.
On paper, you might write something in large letters or in different color ink to make it stand out more. NoteBook achieves a similar effect by supporting multiple fonts, styles, and colors—a feature that Circus Ponies claims helps us retain and recall information better.
Another key feature of NoteBook is its ability to add attachments to your notes. If your notes refer to a spreadsheet of calculations or a schematic in a PDF, you can attach the relevant documents directly to your notes, making them easy to retrieve.
If you're taking notes on a speech or lecture, you can activate NoteBook's voice annotation feature, which records the person speaking while you take your notes. When you review your notes, you can tap a speaker icon to listen to the point in the recording where you began taking a particular note.
You can also add diagrams, flow charts, and sketches to your notes, using NoteBook's pre-built collection of shapes and line styles, or by just sketching with your finger. When adding a PDF to your notes, you can select an annotation option that will add the PDF's pages directly NoteBook, letting you add text notes, diagrams, and circle and highlight important points.
NoteBook costs $30 and runs on iOS 3.2 or later.