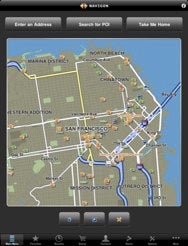 Use Navigon's MobileNavigator for iPhone, but wish you could run it on your iPad? Need help with finding the best spots in your area or exactly which lane to take to get to them? Navigon thought you'd never ask.
A big version 1.7 update for Navigon's MobileNavigator apps brings a handful of key new features, starting with a native iPad interface. A new Active Lane Assistant capability gives you a view of the actual course of the road, directing you to the proper lane in plenty of time to make your turn, and in-app purchases now provide access to Zagat's collection of restaurant reviews, hotels, and other notable destinations.
Additionally, the new MyReport feature lets you submit changes like new roads or street names for Navigon's approval, and you can move your favorites between iOS devices by e-mailing them to yourself. This update should already be live for Navigon's various U.S. regional apps, and it's coming soon to the U.S.A. and North American versions.
To mark Navigon's 20th anniversary, the company is also releasing a series of free, ad-supported single-feature apps, starting with Help2park. This app can find local parking garages within a specified radius and send the garage you need to MobileNavigator (if it's installed) to help you find your way.
The regional versions of MobileNavigator 1.7 are available now in the App Store, starting at $25. They require an iPhone, iPod touch, or iPad running iOS 3.0 or later.