Fans of Rogue Amoeba's audio-streaming software Airfoil, rejoice: version 4 is out now and better than ever.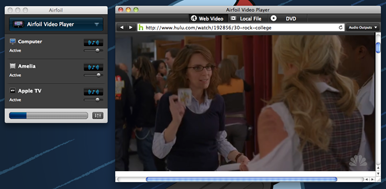 First released in 2005 as a way to send audio from any application to an AirPort Express, Airfoil has grown to support audio streaming to the Apple TV, iOS devices, and other computers within your local network. The latest version, released Thursday morning, brings an interface redesign, improved audio reception, and major updates to both of Airfoil's companion applications: Airfoil Speakers and Airfoil Video Player.
Airfoil Speakers has gained remote connection and control, meaning you can set up and control the audio right from receiving Mac, without ever touching the computer that's broadcasting it. The application even features built-in controls for some apps, including iTunes and Pulsar, so you can pause or skip tracks from the remote computer. In addition, Airfoil Speakers has improved its interface to show metadata—such as track information and album artwork—when available.
Airfoil Video Player, meanwhile, has been updated to allow for audio from Web video to play—in sync—through any connected remote speaker. Control for local media files and DVDs has also been improved.
Furthermore, with version 4, Airfoil has added support for upcoming AirPlay-compatible speakers, and improved its Instant On method for "grabbing" audio from applications and system audio.
Airfoil 4 is available as a free trial for users running Mac OS X 10.6 or later. A single license for new users is $25; while those running previous versions of Airfoil can upgrade for $10 via Rogue Amoeba's online store.