Flipboard announced Thursday that it's adding Google Reader support to its iPad application, part of a major and much-anticipated upgrade to an offering that has already been named Apple's App of the Year for 2010.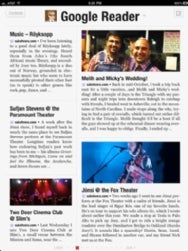 Thursday's debut of Flipboard 1.1 includes a number of other new features for the personal social magazine, including Flickr support and the ability to post status updates, photos, and Flipboard pages directly to Twitter and Facebook. But the company acknowledged that the addition of Google Reader feeds was "by far [its] most requested feature" for the app. (A guided tour of the updates is available in the video embedded below.)
Google Reader entries within Flipboard are displayed in much the same way as links from Twitter and Facebook: with a headline and a few summary sentences from the top of the entry, along with any available related photo. For full-text RSS feeds, tapping on the headline will show you the whole entry, instead of requiring you to tap a Read on Web button. Users can then choose from the usual list of Google Reader actions, like sharing, e-mailing, marking unread, or adding a star to mark the entry as a favorite.
In fact, the Read on Web button has disappeared from the rest of the app as well. Instead, users who tap a headline from their Twitter or Facebook feeds see a grayscaled banner from the link's original Website along the bottom of the Flipboard page; they only have to swipe their thumb upward along the screen to bring the page into full view.
Flipboard said the update comes with "significant new depth" to viewing Facebook and Twitter feeds: Users can now flip through their groups and fan pages in Facebook, and access their Twitter lists and mentions. The company also promised a number of navigation and layout improvements, as well.
The update comes hot on the heels of this month's announcement of a deal with eight online publishers that will allow stories from those publications to appear directly within the Flipboard app with custom typography, layout, and imagery. Thursday's update includes the addition of Sports Illustrated's swimsuit issue Twitter feed to Flipboard's official list of partners.
Flipboard is free and compatible with iPads running iOS 3.2
Read more…