Apple's iPhoto '11 ( ) includes a new feature that allows you to e-mail images to others without ever leaving the iPhoto application. When you select a group of images and choose Share -> Email, iPhoto produces a pane that includes a collage of the selected images. In the bottom right corner of the iPhoto window you can choose to send images in optimized form—meaning that they're compressed so that the entire batch of photos is 5MB or smaller—or at full size. Regardless of which option you choose, you can include only 10 images in a message.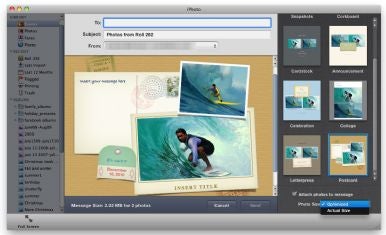 Fine as this feature is, some iPhoto '11 users long for the day when they had greater flexibility in regard to how images were handled in e-mail. In particular, they'd like to be able to choose a different image size and send as many photos as they want. Snow Leopard's Automator, in league with iPhoto '11, can provide that flexibility.
Creating the workflow
Launch Automator (in your Applications folder). In the Template Chooser sheet that appears, choose Service and click Choose. In the top of the resulting workflow window, you'll see two pop-up menus. From the first, choose No Input (so it reads Service Receives No Input). From the second pop-up menu, choose Other and in the Choose window that appears, navigate to your copy of iPhoto '11.
In the Finder, create a new folder on the Desktop called Converted Pictures. Now create a workflow that contains these steps:
Under Photos, select Get Selected iPhoto Photos
Under Files & Folders, select Copy Finder Items
Under Photos, select Change Type of Images
Under Mail, select New Mail Message
Under Files & Folders, select Get Specified Finder Items
Under Files & Folders, select Get Folder Contents
Under Files & Folders, select Move Finder Items to Trash
Drag the Converted Pictures folder you created on the Desktop to the second action—Copy Finder Items. Converted Pictures will now appear in the To pop-up menu. In the Change Type of Images action choose JPEG from the To Type pop-up menu.
In the New Mail Message action enter Check Out These Pictures! in the Subject field. If you like, enter Here are some pictures I think you'll like! in the Message field. From the Default Account pop-up menu choose the account you'd like to send the pictures from.
Note: If you've installed Microsoft Entourage or Outlook on your Mac, you'll also find Create New Entourage Mail Message or Create New Outlook Mail Message actions. If you use one of these e-mail clients, you can substitute the appropriate action for the New Mail Message action. The workflow will perform the same way using your preferred Microsoft e-mail client.
Drag your Converted Pictures folder on the Desktop to the Get Specified Finder Items action. Its name will appear in the Name column. Now choose File -> Save and name your workflow—something like E-mail Images.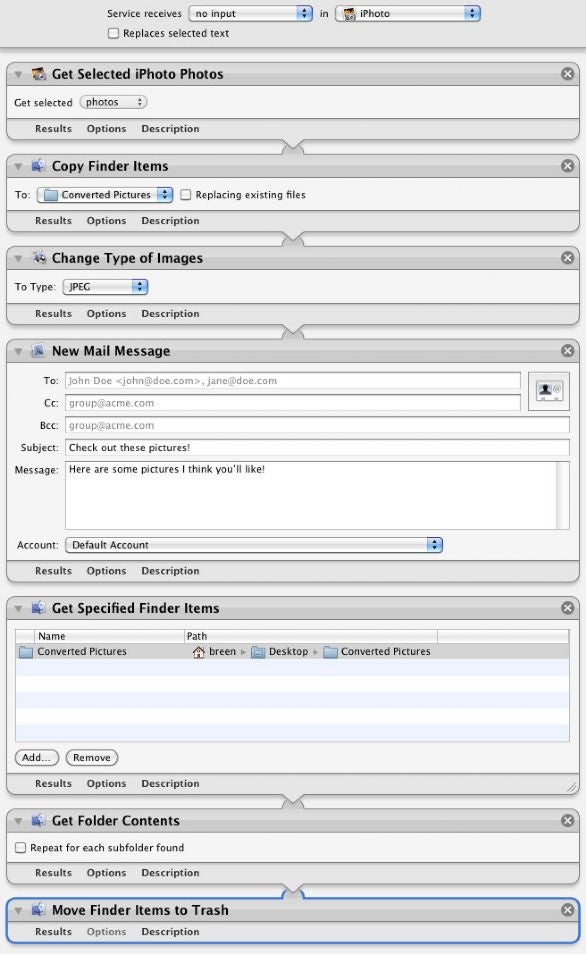 What it does
In plain English, this is what your workflow will do: In iPhoto you select a group of images (or a single image) that you'd like to e-mail. From iPhoto's iPhoto menu choose Services and then, from its submenu, select the E-mail Images service you created. (If you like, you can assign a keyboard shortcut to the service in the Keyboard system preference's Keyboard Shortcuts tab.) iPhoto will copy those images to the Converted Pictures folder. Here they'll be converted to JPEG images. The Mail application will launch (if it's not already running) and a new message created that includes Check Out These Pictures! in the subject heading and Here are some pictures I think you'll like! in the message area. The images in the Converted Pictures folder will be attached to this message. The workflow will tidy up the Converted Pictures folder by throwing the images in it into the Trash.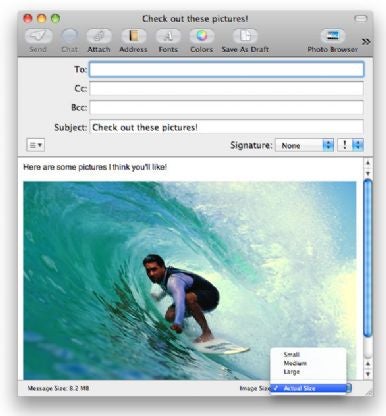 At this point you simply need to address the message by filling in the To field and choose a size for your images from the Image Size pop-up menu at the bottom-right of the message window. (The size options are Small, Medium, Large, and Original.) Note that Mail will remember this choice and use that size for subsequent messages. So, for example, if you've chosen to send medium-sized images, subsequent messages will have Medium selected by default. The pop-up menu will still be there, though, so you're welcome to change that size whenever it suits you.