Video isn't just for camcorders anymore. Most new point-and-shoot cameras, DSLRs, and smartphones now shoot quality standard and high definition video. Unfortunately, basic video techniques aren't as widely known as still photo skills.
Video sharing site Vimeo hopes to help videographers at all levels learn more about creating quality videos with its new online Vimeo Video School, which launched today. The free school is actually a combination of how-tos created by Vimeo employees called Lessons, and a curated collection of existing tutorial videos by Vimeo members. The content is broken up into difficulty levels and categories, such as Software, Shooting, Behind The Scenes, and DSLR.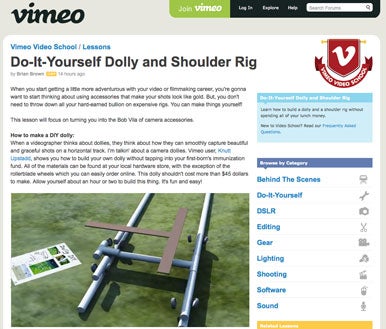 Each lesson is a combination of text, diagrams, and video that explains a technique step-by-step with examples, and ends with a challenge to the student to create a video and post it. There are currently 20 lessons, with new ones being rolled out every week. Some of the available lessons include Capturing Good Sound, Make a Great Holiday Video, and Do-It-Yourself Dolly and Shoulder Rig. Vimeo also recruited videographer Philip Bloom to work on a series of lessons that cover DSLR video basics.
The site was already filled with quality user-generated video tutorials, many from filmmakers who took time to explain his or her techniques for a popular video they created. Vimeo has taken a cue from this give-and-take in its community with its Vimeo Video School.