At a Glance
Expert's Rating
Cons
Keypad entry requires precision
Our Verdict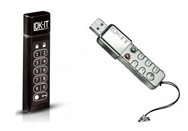 If you're looking for software-less secure flash storage, then the Lok-It drive is your product. It's secured by entering a PIN via a numeric keypad on the top of the drive, with no software involved at any level. This means the drive works with all operating systems and isn't vulnerable to code hacking and key logging. It also means that workplaces that don't allow executable files that run on drives that will be plugged into their computers can rest easy.
The Lok-It's keypad is necessarily small. However, the drive has a tiny battery on board so you can enter the PIN while holding it in your hand, then plug it into the USB port of your computer within 30 seconds. I have a similar device from Corsair that is three years old and the battery still works, albeit after extremely light usage. Regardless, the device will always work when plugged in.
The only drawback that I can see with the Lok-it is that the tiny numeric keypad might encourage overly weak passwords. Do yourself a favor and convert a password to numbers, then use that. Don't bother with birthdays, phone numbers, and so forth, which are virtually useless in terms of security. The Lok-it will reset and erase all data after 10 failed attempts.
The Lok-It isn't validated according to the government's FIPS 140-2 standards. There's no mention of FIPS in the product documentation, except that the drive uses FIPS approved AES 256, but it's likely that Lok-It's features would probably merit at least a level 2, if tested.
The drive is also built to be durable, shock-resistant, and waterproof to one meter's depth.
Lok-It costs $69 for 4GB, $94 for 8GB, and $155 for 16GB, as of the publication date.
All-in-all, this is a great, secure pocket drive, and more affordable than the aforementioned Imation Defender F200.