The augmented reality trend in iOS apps often teeters between an awkward gimmick and an awesome way to fight the Empire. But what if you could turn that trend towards helping people? What if, for example, you could use the iPhone to help people with color blindness?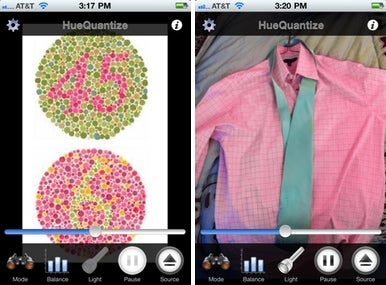 This is the question posed by Dan Kaminsky, a security researcher known for discovering fundamental flaws in the Internet's design. Kaminsky has released a side project called DanKam, an experimental app inspired by a friend who is colorblind. DanKam uses the camera on an iPhone or iPod touch to tweak the color of whatever item you point the device at, ideally making the colors of real world objects more discernible to color-blind individuals. Additionally, you can access any photo you've saved in your device's camera roll or albums and tweak it.
DanKam is targeted at anomalous trichromats who, according to Kaminsky's research, experience the most common form of color blindness, in which reds and greens shift towards each other in the color spectrum (for bonus geek points, he even uses a scene from J.J. Abram's Star Trek with an infamous green woman to demonstrate the effect).
The app offers a number of customizable settings, but Kaminsky admits this is experimental technology in need of a bit of polish. You can pick between different modes and filters that can convert colors to specific parts of the spectrum, swap colors, increase saturation, adjust white balance, and more. The app also contains a series of Ishihara tests.
Kaminsky is openly soliciting feedback—especially from DanKam's target audience—on the utility and future direction of the app. If you're colorblind or know someone who is, $3 doesn't sound like too steep of a price to help shape a budding new type of iOS app.
DanKam is available now in the App Store, and it requires an iPhone or iPod touch running iOS 4.0 or later.