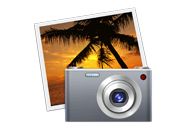 Apple on Thursday released an update for Aperture 3 and iPhoto '11 to add raw image support for certain Canon, Leica, Nikon, and Panasonic cameras.
The list of lucky cameras supported in the Digital Camera Raw Compatibility Update 3.5 includes the Canon PowerShot G12, Leica D-Lux 5, Leica V-Lux 2, Nikon D7000, Nikon COOLPIX P7000, Panasonic Lumix DMC-GF2, and Panasonic Lumix DMC-GH2. The full list of cameras that Apple supports can be found on the company's Website.
The patch is 6.3MB in size, requires a Mac running OS X 10.5.8 or OS X 10.6.5 or later, and can be downloaded via Apple's Website or Software Update. The company notes in a separate Knowledge Base article that computers running OS X 10.6.2 through 10.6.4 may not display this update via Software Update initially; as a solution, users are advised to run Software Update and update their Mac to OS X 10.6.5. At that point, the update should successfully display.