Tower Studios' Shoot to Kill, despite what the developers would have you believe, is not "scary as hell." This top-down shooter, however, does take place in hell. So like the iconic Doom series before it, you can expect hellfire, demons, and plenty of guns.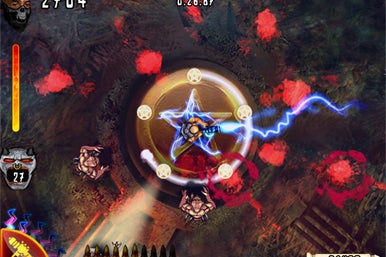 The main character in Shoot to Kill is a special-ops soldier trapped in the underworld's fiery pits. For the soldier to get out of hell, you must help him use guns, chainsaws, and grenade launchers (weapons that apparently came with him to the nether world) to kill demons blocking his path to the above ground.
In each level, the special-ops soldier stands in a circle. He's your responsibility. From every side of the circle, demons walk towards your soldier. If the demons reach the circle, they deplete your soldier's health. Using your finger, you must tap every demon trying to attack your soldier before they reach him. If you fail to keep demons off your soldier, and his health gets completely depleted, he dies. However, each level awards your soldier a total of three lives to complete its mission.
In the game's basic campaign, known as "Escape from Hell," there are three different types of circles your soldier must stand in: "The Circle of Treason, " The Circle of Greed," and "The Circle of Wrath." You must help him survive six demon attacks (levels) on each circle. Each circle makes your soldier use a special type of weapon, be it a chainsaw, grenade launcher, of lightening gun, in supplement to his standard gun to kill demons. Each circle also has its own specialty demon, a demon native to its confines, that your soldier must kill in order to complete it. For completionists, you can protect the soldier on all circles in the game's Easy, Medium, Hard and Eternal difficulty settings. Outside of the "Escape from Hell" campaign is the game's "Survival" mode, which consists of a level that does on indefinitely, and a multiplayer mode.
Though Shoot To Kill's levels all follow the same basic formula, I found that as I progressed through the levels, they became more challenging. In late game levels, I found that demons attacked my special-ops soldier at incredible speeds and in much larger groups then when I first started playing the game. As I advanced through Shoot to Kill levels, I found that the game added new and imposing demons for my soldier to defeat. Shoot to Kill isn't boring but without movement, your "journey through hell" gets repetitive quickly.
Graphically, the game is impressive to look at, a result of its HD quality. As there is a lot of blood spilled in the game, I would say those weary of gore should look elsewhere for their entertainment. My main problem with the game stems from the fact that there are plenty of games exactly like it for the iPad—there's simply not enough to define it aside from its somewhat unique setting.
[Sam Felsing is an editorial intern for Macworld.]