In an apparent effort to combat the dreariness of winter, case makers seem to be churning out more colorful, eye-catching cases than ever. Most of those in this week's roundup offer a variety of bright colors to choose from, and some, such as TruePower's ThinSkin, seem to exist for the sole purpose of adding color to your phone. But if you can't choose a favorite color, you can always go for one of Bling My Thing's crystal-encrusted offerings, which should handily reflect whatever colors are nearby. Or you could go for the colorless CustomShell by Marware, which lets you use your own printed, colorful design to embellish the back of your iPhone. Read on to see if any of these colorful cases could help liven up your winter.
Bling My Thing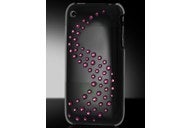 Thanks to AT&T's generous subsidizing, the iPhone isn't nearly the status symbol it was back in 2007. Thankfully for the well-to-do image-conscious among us, there's Bling My Thing. The company offers a variety of Swarovski crystal-encrusted cases for your iPhone that will surely help you stand out from the commoners. Prices range from a modest $37 for the low-key Case Diffusion Crystal model, up to a staggering $930 for the super-flashy (and super-tacky) Butterfly Dream—an apt name for a case most of us could only dream about affording.
Hard Candy
Hard Candy's Street Skin case ($30) is made of shock absorbing TPU rubber and features a rugged, urban style that should keep your iPhone safe and stylish on the meanest of streets.
iKit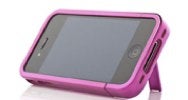 Just when it was starting to seem like kickstand cases were falling out of favor, Santa Monica, California's iKit releases the Chrome Flip Case ($35), silencing the naysayers. The polycarbonate-and-rubber case protects your phone from impact and scratches, and features a shiny, chrome finish to add to its eye-catching design. A built-in kickstand in the back of the case props up your iPhone for easy viewing in landscape mode, and the bottom of the case slides off for quick and easy docking.
Marware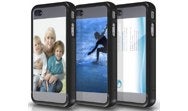 Few cases offer an easier way to keep your iPhone's appearance fresh and customizable than Marware's CustomShell case ($30). The polycarbonate case protects the sides and back of your iPhone, but leaves a clear viewing window for the back. This window is sized to fit standard business cards, giving you the freedom to print any design you want on a business card template and use it as your own case design. When you tire of the design, you can easily swap it with another one whenever you'd like.
OtterBox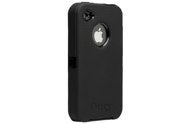 In an effort to breathe new life into its existing line of cases, OtterBox has added a wide variety of color options to its Impact Series, Commuter Series, and Defender Series case lines. The slender, compression-molded-silicone Impact Series case ($20) is now available in seven bright colors. The Commuter Series case ($35), which protects the sides and back of your device with a silicone skin and a sturdy polycarbonate shell, now comes three new, two-tone color schemes. Finally, the Defender Series case ($50), which protects your phone in high-impact-polycarbonate encased in a tough, silicone jacket, now comes in a variety of eight monochromatic and two-toned color schemes.
Toffee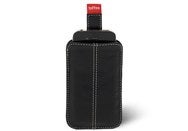 Australian case maker Toffee has two new offerings to keep your iPhone 4 protected in style. The iPhone 4 Shell ($40) is a slim-fitting case that protects the sides and back of your device, while a rich, genuine leather finish adds refined class. The iPhone 4 Pouch ($40) is a slim, protective pouch that features a pull-tab for quick-draw access to your iPhone. The iPhone 4 Pouch also sports a pebble-grain leather exterior for extra flair.
TruePower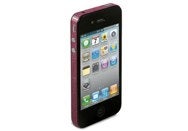 TruePower's ThinSkin ($20 for a set of two) is a protective film that wraps around the edges of your phone, adding a splash of color while protecting it from bumps and scratches. The film comes in various colors, including matte black, white, neon green, and raspberry glitter, and is precision-cut to fit your iPhone perfectly.
Zerochroma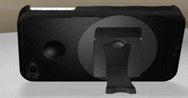 Zerochroma's futuristic Teatro case ($45) boasts a 360-degree-rotating, 18-angle, multi-click theater stand designed to enhance your device viewing and Webcam experience. The stand supports the case in both landscape and portrait mode, and its multi-angle design means you should be able to find an ideal viewing spot under most conditions. The case also features an anti-slip rubber edge and stand tip, to make sure your phone stays where you put it.