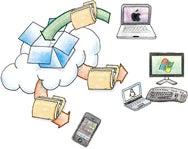 Dropbox has been one of the easiest ways to sync files across multiple computers since its initial release in 2008. On Thursday evening, the company officially rolled out version 1.0 of the program, bringing with it a whole host of improvements, including—to the joy of MacBook Air users everywhere—support for selective folder sync.
According to the company, the update features "huge performance enhancements" thanks to a completely rewritten back-end; Dropbox claims version 1.0 reduces the strain on your computer's memory by up to 50 percent. And on the Mac, the entire program has been re-coded in Apple's Cocoa framework for a smaller download size (a 20 percent reduction), and UI improvements have been made across all three platform offerings.
The banner feature of 1.0, however, is undoubtably Selective Sync: this allows you to select which folders and files found within your Dropbox appear on which of your computers. Each computer has a separate preference pane within the application, so you can, say, choose only certain folders to sync with your work computer while the rest of your files remain accessible on the Web. The company has a good how-to available for those curious about the feature's particulars.
Additionally, the update brings support for extended attribute sync. This allows users to easily upload and sync files with resource forks (parts of a file that certain programs use for storing information) without fear of data corruption or deletion.
Dropbox 1.0 is free and available for download from the company's Website in Mac, Windows, and Linux flavors; Mac users should be running OS X 10.4 or later.