Every now and then, amidst the endless stream of smash-hit physics puzzle games and stylish newsreaders, an app shows up that changes your perspective on how truly useful the iPhone and iPod touch can be. This week, that app may be Quest Visual's Word Lens.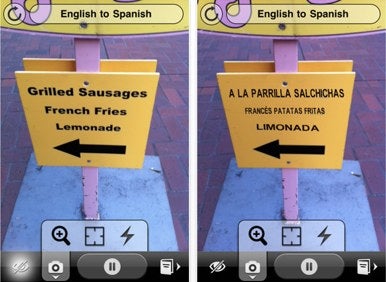 No, this isn't quite a real life Babel fish. But Word Lens is a real-time visual text translation utility (the upside: nothing has to slither into your ear). Point your iPhone or iPod touch camera at some printed text in the real world, such as a street sign or a poster, and Word Lens can translate it right on the display (check out Quest Visual's demo video embedded below). No network connection is needed either, as the translation is performed right on your device. For this launch, Word Lens offers two in-app purchase packs for translating between English and Spanish, though more language packs are undoubtedly on the way.
You can tinker with Word Lens's technology before laying down your money, though. Built-in features include Reverse Words, which can spell words backwards, and Erase Words, which is basically a live Photoshopping feature that should come in handy for your favorite image caption communities.
Of course, the speed with which Word Lens performs its translations in Quest Visual's demo video is pretty impressive, but Macworld hasn't had the chance to put the app through its paces yet. Quest Visual also spells out some of Word Lens's limitations, which include handwriting and stylized fonts; the app works best on clearly printed text that is held at least one hand-length away from your device (remember also that the fourth-generation iPod touch's camera does not auto-focus). That said, this is still a great idea that seems to have been implemented pretty well. I'll also give Quest Visual a couple of bonus points since Word Lens's icon appears to be heavily inspired by the flag of the United Federation of Planets.
Word Lens is available now in the App Store for free, and it requires an iPhone 3GS, iPhone 4, or fourth-generation iPod touch running iOS 4.0 or later. Both the Spanish-to-English and English-to-Spanish language packs are regularly available for $10 each, but through December 31 they're on sale for just $5 each.
Read more…