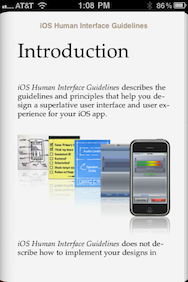 If you're a Mac or iOS developer, either Hanukkah's running long, Santa's coming early, or some other belief system's gift-giving event is happening right now: Apple is offering a half dozen iOS and Mac development books in the iBookstore, gratis. (That's 0.67 books per reindeer, if you count Rudolph. Which none of the other reindeer ever used to do.)
The six developer guides may not be of much interest to non-coders, unless you're simply gaga for titles like iOS Human Interface Guidelines, Object Oriented Programming With Objective-C, or Cocoa Fundamentals Guide. The other three titles are The Objective-C Programming Language, iOS Technology Overview, and its thrilling sequel iOS Application Programming Guide.
You'll need to fire up iBooks on your iPad or iPhone to grab any of these dramatic tomes, of course.
Apple advises that all the free books work best with the recently-released iBooks 1.2, and—while not required—a case of Red Bull is strongly implied, too.