Marketcircle, maker of a variety of Mac and iOS productivity apps, has updated the iOS version of its Daylite business management app with a handful of new features and, after a flood of requests, a native iPad interface.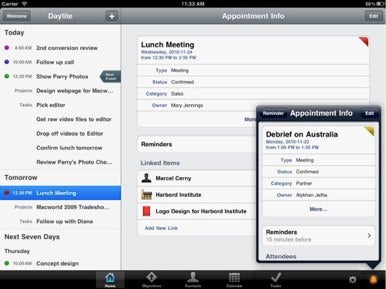 Daylite Touch 1.6 is now a universal iOS app, allowing you to manage your projects, calendars, contacts, tasks, and sales opportunities all from Apple's tablet. In its announcement blog post, Marketcircle says it was planning to tackle the iPad in 2011. But after a deluge of requests from its customers—70 percent of which were CEOs, presidents, and executives who have drastically reduced their desktop computer usage in favor of the iPad—the company rearranged its plans.
Also new in Daylite Touch is the ability to see upcoming activity for the next 7 days in the Home pane, easier navigation, and an improved note-entry interface. Since one user might have more than one iOS device, Marketcircle has also updated its iOS licensing system to a "per user" basis instead of "per device," allowing you to use Daylite Touch on both an iPhone or iPod touch as well as an iPad.
Daylite Touch is available now in the App Store—while it's free to download, you'll need a desktop license ($190) and a Daylite Touch license ($50) from Marketcircle's store in order to get any use out of it.