In my household, Christmas isn't just thoughtful gifts, candy canes, and mistletoe; it's also family game night. One of our favorite competitions is the Electronic Arts hit music game Rock Band, and with the new version of the game out for iOS this month, my iPhone-carrying family might be playing a little differently this year.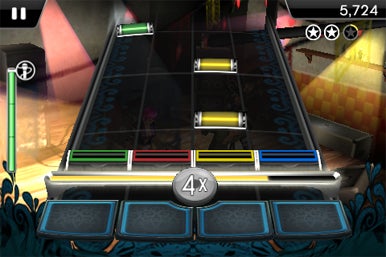 Rock Band Reloaded's gameplay is familiar to fans of the series: You hit notes at the right rhythm to the beat of popular rock tunes. Developed by Harmonix and published by EA Mobile, Rock Band Reloaded comes with three modes: Quick Play, World Tour, and Multiplayer. The former lets you choose any song off of the playlist, and World Tour requires you to earn a certain amount of star points on each song in order to advance to the next city level. Multiplayer allows up to four players to rock out on different devices to the same song, each playing a different instrument. Overall, the modes don't vary much, they just provide different incentives for doing well.
In addition to the simplistic gameplay, elaborate scenes of crowds and rock stars play in the background of Rock Band Reloaded. The main focal point of the screen is the playing board where you wait for notes to float towards you before striking a beat. Of course, my 3GS didn't pack the punch in terms of visuals the way an iPhone 4 would, but the graphics—although repetitive—were still a nice touch to the game.
I found the reflexes of Rock Band Reloaded to be far more lenient than when the game is played on a Wii or PlayStation. Hitting a note a touch early or late was consistently forgiven, and I got the points anyway. I suppose this is beneficial to players like me (whose reflexes are less than cat-like), but the Rock Band veterans are likely to be frustrated at how easy even the expert level can be. Another problem was with the singing aspect of the game. I was excited to try the voice feature, which allows players to sing the lyrics into the microphone of an iPhone, but after my friend's enthusiastic attempts at a Pat Benatar tune ended abruptly, it became clear that Rock Band Reloaded is still working out a few bugs. The game would often crash or end a song prematurely even if the player hadn't actually failed the level.
I was pleasantly surprised at how enjoyable playing Rock Band was on a handheld screen. The beats aren't rushed or crowded as they file in, and I never felt as though I didn't have enough time to prepare for the arrival of a new set of notes. My biggest complaint about the game is the song selection. Granted, this could be a matter of personal taste, but selection seems a bit thin this time with bands like 3 Doors Down rounding out the lineup. Rock Band Reloaded comes with 20 free songs and the option to download more via the in-game music store.
Overall, I wouldn't recommend Rock Band Reloaded as a replacement for the Wii, Playstation, or Xbox versions, but rather, a travel-sized alternative to the original. I can't honestly say that my family will sit around playing the Multiplayer mode on Christmas, but I'll certainly use it to brush up on my rock star skills in order to dominate when we do.
[Stephanie Kent is an editorial intern for Macworld.]