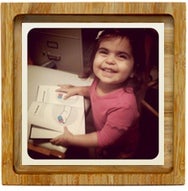 There are two kinds of shadowboxing. Hatchcraft has unveiled Boo Box, an Instagram-integrated approach to the less aerobic variant: hand-carved bamboo shadow box frames for your favorite Instagram shots.
Instagram, as you may recall, is the increasingly popular iPhone-only photo-manipulation and sharing network. (We recently named it one of our App Gems for 2010.)
Ordering your Boo Box is as simple as filling out a form with the link to the Instagram photo you'd like framed and choosing one of three frame styles (Lion, Tiger, or Bear—oh my!). The photograph is printed of 290gsm bamboo paper and bonded to the wood. (Hatchcraft says that an iPhone app for "boo boxing" your favorite photos is coming soon.) Just remember to keep the whole thing away from any hungry pandas.
The frame costs $20, and you can pick your finished product up from the Boulder, Colorado office for free if you're local. Otherwise, shipping is $5 anywhere within the United States.