Rejoice, Mac bundle enthusiasts. It's been two entire days since we've written about a Mac software bundle for the holidays, but MacUpdate is here to quench our thirst for software and gifting software with the MacUpdate December 2010 Bundle.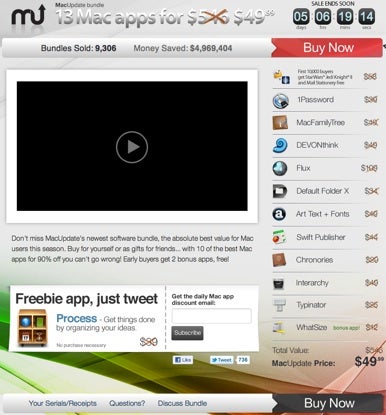 This time around we have a bundle of ten apps, as well as a "bonus app" (apparently it doesn't qualify as a "regular, everyday, Joe-schmo, non-bonus app" like the others) and yet two more apps for the first 10,000 buyers. In the main course you get: 1Password, MacFamilyTree, Devonthink, Flux, Default Folder X, Art Text + Fonts, Swift Publisher, Chronories, Interarchy, and Typinator. For the "bonus" dessert you get WhatSize, and the first 10,000 buyers get a second dessert of Star Wars jedi Knight II and Mail Stationery.
Altogether the bundle is worth $546, but you can score it all for the digital-door-busting price of $50. But wait, there's more!
If you sign into your MacUpdate account and give MacUpdate's bundle some free press with your Twitter followers, you can get Jumsoft's Process for free, no purchase necessary. If you do think you want to snag a bundle or even gift some of these apps to friends, you'll have to do so by Thursday December 23.