Robot Unicorn Attack is back, and it's all decked out in holiday gear—complete with a hard rock Christmas soundtrack, "Christmas Time (Don't Let the Bells End)" by The Darkness.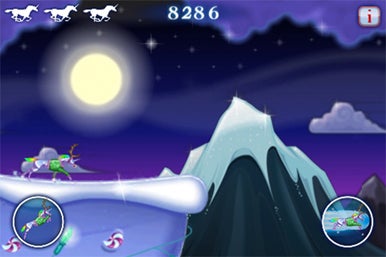 Adult Swim's Robot Unicorn Attack Christmas Edition is a Christmas-themed, fast-paced, brutally-difficult platform game with one objective: survive. Of course, the game is one never-ending level, so you'll never actually "win," just score higher and higher (hopefully).
The game's seemingly wholesome setting hides a truly evil level of difficulty. You are a cyborg unicorn running through winter wonderland filled with presents, lights, and large obstacle snowflakes. The game moves with an increasingly quick pace from left to right, and you can control your unicorn's movement by jumping, dashing, and various combinations of the two. The longer you stay alive, the more points you will get, but you can also up your score by blasting through snowflakes and collecting presents.
There's also the option of "swipe" controls, but I found these to be confusing at best. With swipe controlling, you can swipe (up to jump, to the right to dash), but my swipes were often mistaken for different controls (e.g. swiping up would lead to a dash and vice-versa). The traditional controls simply consist of two buttons in the lower corners—the left button lets you jump, while the right button lets you dash. I preferred this latter control scheme.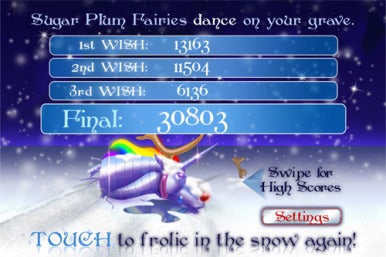 You get three "dreams" or lives, and when your third life is up (i.e. you are dead) your three scores are tallied up to give you a final score.
Robot Unicorn Attack Christmas Edition is just as whimsical—and macabre—as the original game. Your rainbow-maned cyber unicorn races through a psychedelic wintery scene, and when you die the message "Sugar plum fairies dance on your grave" appears while your unicorn's severed head (still wearing reindeer antlers and a red nose) weeps on the snow. The good news is that the graphics have also gotten an update—it looks great on the iPhone 4's retina screen (unlike the original game, which is annoyingly blurry).
If you've never played Robot Unicorn Attack before, I definitely recommend Robot Unicorn Attack Christmas Edition—not only is a bit more polished-looking than the original, but it's priced at just $1, and totally worth it.
[Sarah Jacobsson always follows her dreams.]