If you don't back up your Mac's files, then it's a matter of when—not if—you'll lose data that's precious to you. Apple already robbed Mac users of any excuse not to back up regularly with Time Machine. But a single bad power surge, or a true disaster like fire or vicious weather, could render your Time Machine backups worthless.
Fortunately, off-site backup is easier than ever. A slew of Web services offer affordable online backup for your Mac. These services are often simple to use as well: you install software from the service on your computer, and it backs up your files over the Internet. By keeping current copies of your treasured data far away from your home, you can feel far more confident that your files are safe.
I looked at six online backup providers: Backblaze, Mozy, Carbonite, JungleDisk, Dropbox, and CrashPlan. They all offer the same core approach, but vary significantly in precisely what they offer, what they charge, and how they work. Note that when you first start backing up your files with an online service, it can take some time to upload all your data—even days. If your Internet service provider caps your bandwidth, you may need to consider throttling your initial backup (by limiting how much data the backup service can transfer per day, or by limiting the number of files it backs up initially and ramping up over time), or instead choosing a service like CrashPlan that lets you send in a hard drive for your initial backup (with an additional cost).
Backblaze
Backblaze is a fairly typical example of how these online offerings work. The service costs $5 per month (or $50 for a year), which affords you unlimited backups for the files on a single computer, and any directly attached USB and Firewire hard drives. (Extra discounts are available if you prepay even more; the price gets as low as $3.96 per month if you pay for two years at a time.)
Like several services covered here, Backblaze places limits on what types of files it will back up. It specifically doesn't back up the operating system, installed software, temporary files, or any files larger than 9 GB. Fortunately, seemingly huge files like your iPhoto, Aperture, or Lightroom libraries are generally smaller than they appear, since they're really bundles of many files—which Backblaze can handle.
Backblaze's software runs as a well-designed pane in System Preferences on your Mac. The options are simple: You can initiate a backup, check out restore options, or configure settings. The settings let you throttle how fast Backblaze backs you up (and thus how much of your bandwidth it consumes), exclude specific files, and browse reports and logs regarding just what the software is doing. On the whole, it's very simple to navigate and configure the preference panel.
Backblaze backs up your files continuously (though you can switch to once daily or manually triggered instead), and keeps up to four weeks of file revisions. When you need to restore files, you can do so for free via a Web interface, or order your files on a DVD (for $99) or a USB drive (for $189).
Mozy
On the whole, Mozy is pretty similar to Backblaze. Mozy costs $4.95 per month per computer, or as little as $4.33 per month if you prepay for two years at a time. Like Backblaze, Mozy runs on your Mac as a preference pane. Also like Backblaze, the service keeps up to 30 days' worth of file revisions, backs up your files continuously, and ignores certain file types like your applications. Mozy—again, like Backblaze—wisely uses what it calls "block level" backups, meaning that the service attempts to back up only new or changed portions of files, to save bandwidth and time. And, like Backblaze, it backs up any drives connected via USB or Firewire.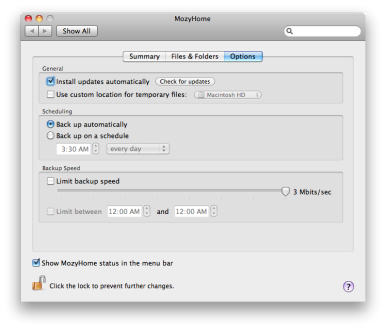 That said, Mozy's file restoration options aren't quite as good as Backblaze's. You can order a DVD with your files, and its cost is variable: $30 for setup, 50¢ per GB of data, and $40 for shipping (via FedEx's Next Day Air service). 60 GB of data would thus cost about $100. Mozy's Web-based restore interface isn't great, particularly when you need to restore larger amounts of data: Mozy generates multiple disk images for you to download—each about 1 GB. And I found that those downloads didn't always keep my folder hierarchies consistent—different disk images would contain the same parent folder, with different files and subfolders in each image. You're able to restore your data with Mozy, but the process is far more painful than it should be.
While Mozy's preference pane isn't as cleanly laid-out as Backblaze's, it lets you accomplish most of the same tasks without much confusion: You can adjust how much bandwidth the software uses, exclude specific files, adjust the backup schedule, and browse logs.
Both Mozy and Backblaze offer free trials.
Carbonite
Carbonite's offering isn't quite as compelling, particularly for Mac users. The cost is about the same: $4.58 per month per computer, or as little as $3.61 if you prepay for three years in advance. By default, the service backs up photos, e-mails, documents, music, and personal settings, but you can also add videos, "executable files," and files larger than 4 GB. Windows users get niceties like 90 days worth of file versioning, but the company doesn't offer those features in the Mac version of its software.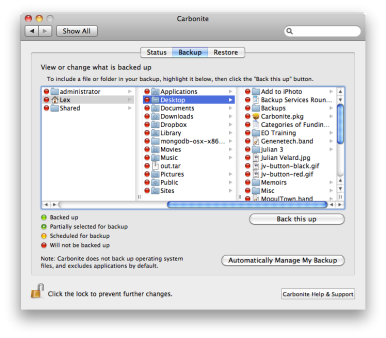 Like Mozy and Backblaze, Carbonite's main interface on your Mac is through a System Preferences pane—and the controls it offers are frustratingly sparse. You can enable a "low-priority mode to conserve bandwidth," but the software lacks the more detailed bandwidth controls that other backup solutions offer. And the interface for excluding specific files and folders is needlessly clunky, since it lacks drag-and-drop support and instead forces you to work through a hierarchical file browser.
Carbonite cleverly tweaks your files' icons so that you know their status: backed up, will be backed up, or excluded from the backup process. But that cleverness is outweighed by gaping holes in what the service offers. Since Mac can't get past versions of their files, you can get burned if you delete something and want it back a few days later. Carbonite's current failure to offer feature parity for Mac users is disappointing.
Also unfortunate is that Carbonite only allows you to get your files back via the Internet. That is, you can restore files via the preference pane or the Carbonite Website, but you can't request a DVD or hard drive be shipped to you.
JungleDisk
JungleDisk takes a slightly different approach, both to pricing and backup method. The service offers two plans: Simply Backup and Desktop Edition. The former only backs up your files; the latter adds a Dropbox-like syncing feature that lets you mount your backup storage space like a network drive.
The Simply Backup service costs $2 per month, and the Desktop Edition costs $3 per month. But on top of those base prices, you need to pay for your storage space. JungleDisk lets you rely on either Amazon S3 or Rackspace for storage. Amazon charges 14¢ per gigabyte per month; Rackspace charges 15¢. But since Amazon also charges data transfer and data request fees and Rackspace doesn't, Rackspace is probably the cheaper choice. Your first 5 GB of backup data are free.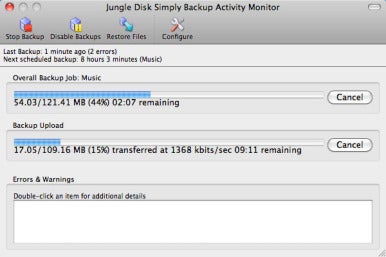 If all that sounds a little complicated, that's because it is. If you can wade through the initial complexities, though, JungleDisk has some distinct plusses. First, you can use the service with an unlimited number of computers. If you want to back up only about 20 GB of data on the Simply Backup plan, that's about $5 per month total, which remains competitive with the other services. You can also customize how long JungleDisk keeps older versions of your files—though you must configure that manually—and of course, you must pay for the storage cost, too. And JungleDisk will back up whatever files you throw at it—applications included.
Unfortunately, though, JungleDisk's interface doesn't feel at all Mac-like; the software looks as if it were surgically transplanted straight from some older version of Windows. It's usable, and you can mostly muddle your way through configuring settings like allowed bandwidth without getting lost. Sadly, choosing files to exclude is as painful as in Carbonite.
As with Carbonite, your only option for restoring old files is over the Internet; no restore DVD or hard drive option is available.
Dropbox
If you like the idea of JungleDisk's Dropbox-esque Desktop Edition, it's worth considering the backup abilities of Dropbox itself. While the popular (and Macworld Editor's Choice award-winning) utility's focus is on syncing files between multiple computers and devices, it's a viable backup option, too. The service doesn't offer unlimited data as an option, and you can't get copies of your files sent to you on DVD, but it still offers some compelling features.
The free version of Dropbox offers 2 GB of storage space. You can get 50 GB for $9.99 per month (or $8.25 if you prepay for a year), and 100 GB for $19.99 per month (or $16.58 if you prepay for a year).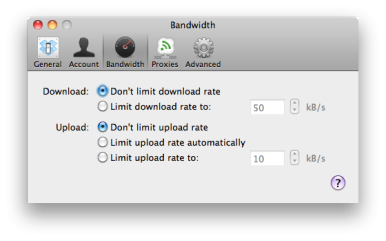 You install Dropbox on your Mac (and as many other Macs, PCs, and iOS devices as you'd like), and it creates a seemingly magical folder: anything you drop in that folder quickly syncs with any other computers linked to your Dropbox account. Even better, every file you sync with Dropbox is available via the Dropbox Website, too. By default, Dropbox keeps earlier revisions of your files for the past 30 days—and those revisions don't count against your storage quota. If you pony up for the Pack-Rat option—which costs $3.99 per month or $39 per year—you get unlimited version history for all your files.
Like Carbonite, Dropbox uses tiny graphics atop your files' icons to indicate whether the file has already synced or is currently syncing. And like JungleDisk, you can back up any kind of files you'd like to Dropbox, including software, as long as you have the space available. With Dropbox's recent 1.0 release, the service introduced selective syncing. That means you can sync everything you put in Dropbox to the cloud, but choose which specific computers those files get synced to—making it an even more worthy of consideration.
As a pure backup solution, Dropbox seems to offer less (limited storage) for more (a higher price). But when you couple its backup abilities with its core syncing behavior and ubiquity across devices, it becomes more compelling.
CrashPlan
The last online backup solution I checked out was CrashPlan. For free, the software lets you back up your files to computers belong to your friends and family. That's fine, and a smart way to start getting off-site backups. But since everyone's hard drive space is at a premium, and your friends' uptime can't be relied upon, the for-pay online-backup plans are where the real action is.
The premium offerings are called CrashPlan+. You can choose among three options: CrashPlan+ 10 GB gives you 10 GB of storage for $2.50 per month, or as low as $1.46 per month if you prepay for four years. CrashPlan+ Unlimited removes the 10 GB cap, and can cost as much as $5 and as little as $2.92 per month. And my favorite plan is CrashPlan+ Family Unlimited, which lets you back up between 2 to 10 computers for as much as $10 and as little as $6 per month, again depending on how far in advance you prepay.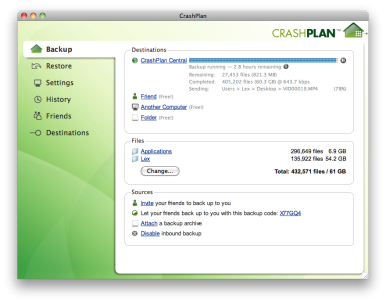 CrashPlan keeps your deleted files forever, and those files don't count against your quota if you're on the 10 GB plan. While most of these online backup services offer some control over how much of your bandwidth to use, none can rival the fine-grained controls that CrashPlan offers; the standalone CrashPlan software lets you set precise usage maximums for both bandwidth (over WAN and LAN connections) and total CPU utilization. Even better, you can configure unique values for those settings for when your computer is idle as opposed to when you're using it.
The software won't win any Apple Design Awards, but it's smartly organized and makes configuration a snap. You can set multiple file destinations—meaning you can back up your files both to CrashPlan Central, the traditional online backup repository that the company offers, as well as other friends' computers.
You can restore your files via a Web interface or the software itself. CrashPlan will send a hard drive with your data from between $125 and $165, depending upon how fast you need it. The service can also be configured to send you emails or messages on Twitter if your computer stops sending backups to CrashPlan properly.
The bottom line
These services have plenty in common, but it's the tiniest implementation details that set some apart. You want your offsite backups to be consistent, timely, dependable, and easy to restore—and to avoid bogging down your computer while they do their thing. My data is important to me; I have years of writing, along with thousands of photos and videos of my kids. I've chosen to depend on a combination of CrashPlan and Dropbox, coupled with local backups. All of these services (with the possible exception of JungleDisk) are easy to get up and running, but CrashPlan and Dropbox offer substantial benefits in terms of feature set and ease of getting your data restored when needed.