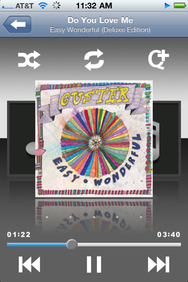 If a big fluffy cloud of bits seems like the ideal place to store your media, then mSpot has you covered. Previously available for Android devices, mSpot last week launched an iOS client to let you listen to music you've stored on its service.
Akin to solutions like ZumoCast, mSpot aims to give you access to your media no matter where you are. But, instead of streaming the media that you've got on your home computer, mSpot lets you upload your music to its own servers. The service provides you with 2GB of free storage space and offers an upgrade to 40GB of space if you plunk down $4 every month.
Once you've signed up for an account—free or paid—you download a small program that uploads your music to mSpot's server, either from your iTunes Library or from folders that you select (you can also tweak the choice of music from mSpot's Web-based interface, restricting it to certain artists or playlists). In addition, you select what quality to use for uploaded music—Good, Better, or Best. Lower quality won't sound as good, but it will take up less of your allotted storage space. Conveniently, mSpot will watch for new music added to those locations and automatically sync them to the cloud.
With your music uploaded, you can listen to it via mSpot's application on your phone, which works similar to Apple's iPod app. You can choose how much music the app will cache (between 4GB and 32GB) or set it up to stream only, not storing any data locally. The iOS app is optimized for iOS 4, meaning it can also play music in the background.
However, it's worth noting that mSpot can only upload music from one source, so if you've got your music split up between multiple computers, you'll have to either consolidate them or pick one. It also appears that there's a limit on how many mobile devices you can set up to access your music—when I logged into the app on my iPhone, it told me it would unregister my account on my iPad.
mSpot is free to download and requires a Mac running Mac OS X 10.5 or later or a PC running Windows XP Home Edition or later; most modern browsers are supported. To use the iPhone client you'll need a device running iOS 3.0 or later.