At a Glance
Expert's Rating
Our Verdict
Touchscreen devices such as the iPhone and the iPad have become part of daily life for many of us—they're our phones, our navigation devices, our media players, our all-purpose, look-up-everything machines. But for those of us living in colder climates, there's a solid four- or five-month stretch where these gadgets also the bane of our existence—in order to use them, we have to shed the protective garments that keep our hands from turning into popsicles.
The iPhone's capacitive touchscreen relies on the conductive properties of the human body, which is why you can't use your iPhone with most styluses or while you're wearing gloves. But, as they say, necessity is the mother of invention, and staying warm is one of the basic necessities of survival. So inventors came up with a clever idea: gloves that use conductive thread to mimic the properties of a human hand. I took a look at four pairs of touchscreen-friendly gloves to see how they held up in the frigid reality of a New England winter.
Etre Fivepoint gloves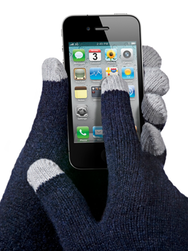 Etre's Fivepoint gloves ( ) are made from lambswool and colored in a distinctive two-tone pattern: Oxford blue with gray fingertips. Those fingertips contain the secret sauce that makes operating touchscreens possible: thread that conducts just enough electricity from your fingertips to activate your touch-sensitive device.
The gloves come in two sizes: medium and large. Large was the better fit for my hands, but I found that some of the gloves' fingers were a bit longer than my fingers. With normal gloves, this isn't much of a problem, but when you're trying to use a touchscreen, you really need to have the glove taut against your fingertip in order for the capacitive fabric to work properly—the fabric needs to comes in contact with both your skin and the touchscreen. As a result, I sometimes found myself having to tug on the gloves to make sure that they were fitting snug enough. Of course, your mileage may vary depending on the size of your hands.
For the most part, though, the Fivepoint gloves work as advertised. They're even pretty warm, though for truly cold days, you may find them a bit porous. It's also worth noting that wool isn't the most moisture-resistant material, so if you're dealing with a very wet climate, these gloves may not be ideal.
One advantage of the Fivepoint gloves compared to some "touchscreen" gloves I've seen is that the conductive thread is incorporated into the tips of every finger, so you can use all ten of your fingers for touch-sensitive tasks—good for typing on the iPad or playing some games.
The Fivepoint gloves go for £25—about $39—as of this writing.
Agloves Touch Screen Gloves
If you're looking for a somewhat slimmer option, consider the Touch Screen Gloves ( ) by Agloves. Knit from a combination of polyester, nylon, spandex, acrylic, and—the magical ingredient—silver nylon, these gloves are soft and stretchy. They're mostly black, but they're run through with that silver thread, which provides the necessary conductivity and gives the gloves a somewhat sparkly appearance. Agloves says the Touch Screen Gloves are hand-washable in water.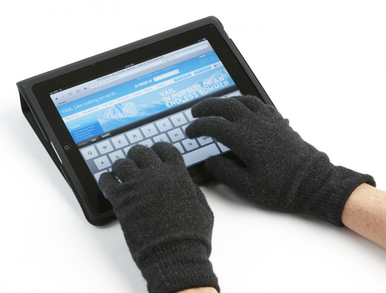 I tested the gloves' medium/large size, which fit me well, but the company also offers small/medium and extra-large sizes. The gloves are fairly warm on their own, but as with the Fivepoint gloves, you might find them a bit thin on colder days. One nice thing about this pair, however, is that they're slim enough that you could potentially use them as liners for a heavier pair of gloves, netting you extra warmth while avoiding having to fully expose your hands to the elements when you want to use your iPhone.
The gloves' touchscreen functionality worked great—I had no problems using the gloves with my iPhone, iPad, or even my Mac's Magic Trackpad. (The Touch Screen Gloves are even thin enough that I was able to type on my Mac's keyboard without too much trouble). Since the Touch Screen Gloves are sewn throughout with silver thread, all ten of the fingers will work with touchscreens, meaning that you can ten-finger type on your iPad without any trouble, and I found that typing on a touchscreen with the gloves wasn't appreciably worse than with my bare fingers.
Agloves's Touch Screen Gloves run for $18 a pair, making them the least expensive pair I tested.
Etre Touchy gloves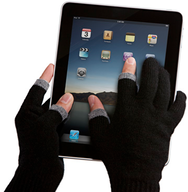 Another entry from Etre, the Etre Touchy gloves ( ) take a less-is-more approach by lopping off the tips of each glove's thumb and forefinger, à la traditional photographers' gloves. While this does make it easier to use your touchscreen device, it obviously doesn't do much to keep your forefinger and thumb warm.
Still, the gloves—which, like the company's Fivepoint model, are made out of lambswool—will keep the rest of your hands pretty toasty, and I actually found a perfect use for them: playing video games. Turns out that the cut-outs for thumb and forefinger make the Etre Touchy gloves ideal for Xbox 360 games in those cold winter months, letting your thumbs work the controller's analog sticks and buttons while the forefingers use the triggers and shoulder buttons.
The Etre Touchy gloves come in a variety of color schemes, and striped and solid patterns, and sell for £20 (about $32 at current exchange rates), putting them firmly in the middle of this glove lineup.
Isotoner SmarTouch gloves
Of the gloves I tested, the Istoner SmarTouch ( ) are probably the "gloveiest." That's no surprise, given that they're a product from longtime glove-maker Isotoner.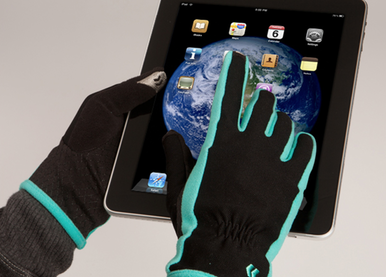 Made from a combination of nylon and fleece, with a fleece liner, the SmarTouch gloves are easily the warmest of the pairs I tested. Isotoner says the nylon material that covers most of the back of the hand is water repellant, but I didn't have a chance to test that first-hand—if you'll pardon the expression.
Unlike the Fivepoint gloves or Agloves's Touch Screen Gloves, the SmarTouch have specially sewn pads on the thumb and forefinger of each hand that allow for touchscreen usage. While that's fine for most common interactions (especially on the iPhone), it does mean that you won't be able to type with all ten fingers on an iPad or do any other tasks that would require more than two fingers and two thumbs.
However, the trade-off is that the other four fingers and the palm of the glove are covered with a mesh of textured no-slip rubber. That's great for situations where you might want something with a little more grip, such as driving—or even just holding your iPhone.
At $44 for a men's pair or $40 for a women's pair, the SmarTouch were the most expensive of the gloves I tested. But I also liked them the best.
Other options
While these were the only four pairs of touchscreen-compatible gloves that I got my hands on—or in, as the case may be—there are plenty of other options out there. Freehands makes several pairs for men and women ranging from ski gloves to fleece models. Many have thumbs and forefingers that flip up to let you use your touchscreens, but the company also make a few pairs that incorporate conductive thread in the fingertips. Dots Gloves produces its $20 wool gloves in a variety of colors, with conductive thread in the thumb, forefinger, and middle finger of each hand. If you're an avid skiier, you might want to investigate Burton's touchscreen-compatible gloves, while those in search of a more-versatile solution should check out 4sight Products's Tavo Gloves.
If you've already got a pair of gloves that you're fond of, you can convert them into touchscreen-compatible versions with a solution such as the $20 GloveTips, small discs of conductive thread that you sew onto your existing gloves' fingertips. Similarly, Quirky's Digits are conductive pins you attach to your gloves' fingertips. Or, if you're looking for a somewhat classier, more in-depth solution, you can follow this guide at Instructables for making any pair of gloves touchscreen-compatible—so long as you don't mind pulling out the needle and thread.
Whichever route you take, one thing is clear: with these gloves as your witness, your fingers will never be cold again.