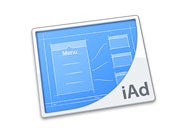 Apple has announced the release of iAd Producer, a tool that can be used by publishers to simplify the creation of campaigns for the company's iAd mobile advertising platform.
The app, which runs on Mac OS X, provides a complete end-to-end workflow for creating ads. The user starts by selecting a target platform (the iPhone and iPad each require specifically-sized creative materials due to their different form factor) and then goes through a step-by-step selection process that allows them to create a splash screen, menu, and one or more content pages.
iAd Producer allows users to define which transitions are employed in moving from one screen to the next. It offers a selection of twelve different options that developers will recognize as the default ones supported by Safari's WebKit engine, which is also used to render iAd campaigns.
Since iAd content is meant to be interactive in nature, Producer supports a number of stock UI controls, such as buttons, grid views, Cover Flow displays, and so on. Of course, the entire system is built around HTML5 and JavaScript; therefore, the app also allows developers to create their own controls and manipulate them through customized client-side code, as well as test and debug them directly from within the app.
Once an ad campaign is ready for submission, iAd Producer can optimize it in several ways, such as ensuring that all images are cropped and compressed appropriately, that the size of the code is minimized, and so on. It can also make certain that all the pieces fit together well by performing several tests for completeness and functionality.
It's likely that Apple's decision to develop and release iAd Producer is linked, at least in part, to a desire to make the company's advertising program more attractive to a wider audience of publishers—that is, of course, in addition to streamlining the process of vetting iAd campaigns' technical viability. Prior to its introduction, developers were required to build ads by hand using a specialized API; while that's still available, the app should at least simplify the basic aspects of ad creation, allowing publishers to focus on providing better interaction and more engaging content.
iAd Producer requires OS X 10.6.5 or higher and is available for registered developers only as a 30MB download directly from Apple's Developer Connection website.
Updated on 12/21 at 8:12 PT to correct Mac system requirements.