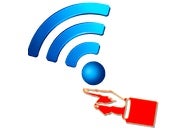 Last week, blogger and insatiable hacker Erica Sadun turned your Mac into an AirPlay receiver with AirPlayer. Now she's turned the tables with AirFlick, a companion utility that lets your Mac stream content to an Apple TV from apps besides iTunes.
Sadun's new Mac utility sniffs out your second-generation Apple TV over the network, then lets you paste the URL of an iTunes-friendly file that you want to play on it. You can even drag in a file from your Mac that you don't necessarily want to manage in iTunes. Hit the play button and your Mac begins acting like a giant iOS device, streaming the media to your Apple TV sans iTunes.
AirFlick's functionality is simple for now; Sadun is upfront about this being a very early alpha of the software. But she also sees a lot of potential for AirFlick, stating that it could eventually offer real-time transcoding and AirPlay streaming of file types that are not natively supported in the iTunes and iOS ecosystem.
For now, though, you can download the AirFlick 0.01 alpha from Erica's repository of AirPlay utilities. She offers it as donationware but without tech support, so tinker at your own risk.