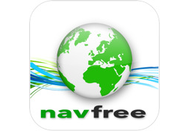 If you're traveling by car this holiday season, give thanks to navigation company Navmii, who would like to give you the gift of free turn-by-turn GPS for your journey.
The company's Navfree USA app, released last Friday for the iPhone, iPod touch, and iPad, features all the bells and whistles of a good GPS program—spoken turn-by-turn directions, automatic rerouting, and 1.6GB of offline map data—and it's all available for free.
To avoid costly license fees, Navmii relies on data from OpenStreetMap, a user-editable wiki-based map; the navigation itself is powered by the company's own Navmii GPS software, which is also used by Navmii's many paid offerings for iPhone and iPad. Because OpenStreetMap is user-editable, Navmii encourages Navfree users to send in reports of errors in the maps, which they can do right from the app itself.
Navfree provides a variety of views, including 2D and 3D; live route preview; support for detours; pedestrian navigation; and several multitouch map gestures for easy routing and zooming. Additionally, users can access both their iPod controls and Google/Bing search from within the program. Keep in mind that, as the name suggests, Navfree USA covers only the U.S.; Navmii is soliciting requests from users to create a Navfree version for other countries.
The company also plans to supplement the free app with paid in-app purchases of additional features such as upgrading to "premium" maps from commercial vendor TeleAtlas, data from safety cameras, and traffic information.
Navfree USA is available for free on the App Store, and requires an iOS device running 4.0 or later.