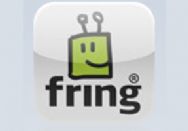 If you want to fring out, fring out. The VoIP app for iPhone now supports what the company calls fringOut, which lets users of the service call regular landline and mobile phone numbers over 3G or Wi-Fi, at heavily discounted rates.
To celebrate the launch of fringOut, the company is giving away $5 calling credits to customers who want to use the service from European airports during the busy travel season (and which has been compounded on the continent by inclement weather). To claim the credit, you need to compose a special tweet and include a photograph of your valid airline ticket.
The fringOut service for calling phones from within the app was already available on Android and Nokia devices, but is making its iPhone debut. In addition, fring also lets you make free fring-to-fring audio and video calls. The app is free and requires iOS 3.0 or later.