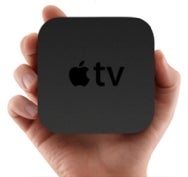 It's the holiday season, when many of us wing our way to visit family and friends, leaving our day jobs behind. Even Apple, as it seems: the company announced on Tuesday that sales of the second-generation Apple TV will hit the coveted one million mark…sometime later this week. Presumably, the Apple PR team will be on vacation this week when the counter actually ticks over to the big number.
During Apple's quarterly financial results call in October, CEO Steve Jobs said that the company had already sold 250,000 Apple TVs, just a few weeks after it became available. That also marked the first time that Apple had ever given a figure for sales of the device, which it has long dubbed a "hobby."
Apple also took the opportunity to give equally rare numbers on video content sales from the iTunes Store, saying that users are now renting and purchasing more than 400,000 TV episodes and more than 150,000 movies per day. But given how little the company has said in the past about video downloads, it's difficult to tell how much of that bump is due to Apple TV owners. But the fact that the company mentions the figures at all seems to point to a definite impact from the company's redesigned set-top box.
The Apple TV's projected millionth sale should slide in right under the three-month point since the device's launch in late September, suggesting that—even bolstered by holiday shopping—sales have slowed since the device's introduction. Despite that, the million-sales milestone is an impressive and important one for Apple's foray into the living room; the fact that they've issued a press release touting it lends credence to the theory that the company is looking to drop the Apple TV's "hobby" status.
The redesigned Apple TV was announced in early September at Apple's music-focused event, with Steve Jobs saying that the company had decided to create something "quite a bit different" from its previous models. Instead of focusing on syncing owned content from your Macs, the new Apple TV fully embraced a streaming model, for both iTunes content and that from other sources, like Netflix.
Updated at 8:50 PT to add information about iTunes Store download numbers.