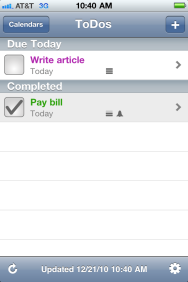 It's a question as old as the iPhone itself: how come we can sync calendar events between our Mac and our iOS devices, but not to-dos? BusyMac's new BusyToDo app is the spackle for that particular hole—as long as you're using Apple's MobileMe service, that is.
BusyToDo lets you interface with one or more MobileMe accounts. Once you enter your credentials, your to-dos will be downloaded and synced—any changes you make in BusyToDo will be reflected in MobileMe's Web interface and vice versa. If you use iCal or BusyMac's BusyCal to manage your to-dos on your Mac, then the changes will show up there as well, and if you sync other iOS devices with your MobileMe calendar, then they'll all reap the benefits too.
You can spice up your to-do items with a due date, priority, location, URL, note, or alarm—the last are displayed using iOS 4's local notification feature. There are a variety of options for sorting your list as well as setting default choices for creating new to-dos. And, what good to-do app is complete without the ability to check off your tasks as you complete them?
If you use BusyCal on your Mac, you can take advantage of a couple of additional features, such as the ability to create repeating tasks or to tag your to-do items.
Unfortunately, those who use other calendaring services such as Google Calendar—even, as I do, via BusyCal on my Mac—are out of luck, thanks to BusyToDo's dependency on MobileMe.
BusyCal costs $5 and requires iOS 4.1 or later and a MobileMe account with the new Calendar.