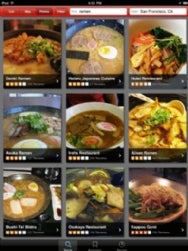 Yelp brought its business-review app to the iPad on Monday, launching an update that finally offers tablet users the ability to contribute their own reviews and comments to the company's user-driven Website.
Previous versions of Yelp sported only an iPhone interface that was available on the iPad via the device's iPhone-compatibility mode. Monday's update makes the company's offering truly universal—the same app is viewable on both devices, with user interfaces native to each device.
iPhone users won't notice much change in the updated app beyond a few bug fixes. On the iPad, however, Yelp addresses a longstanding critique—for an otherwise well-reviewed app—about the inability of users to write reviews. Those reviews form the heart of the the Yelp Website and app, letting users see how other commenters rate local options for dining, shopping, and entertainment. Unfortunately, iPhone users are still left in the cold: the update does not add those review-writing capabilities.
Other features available in the iPad version include a new photo search tool—enter the word "beef," for example, and the app will present you with a page full of user-submitted photos of beef dishes at restaurants near your location. iPad users will also now be able to shift between landscape and portrait mode when using the app.
In both the iPhone and iPad versions, the Yelp app continues to let users search for local businesses, locate them on a map, and compare customer-submitted ratings and reviews.
Yelp 5.0 is free, and compatible with any device running iOS 3.0 or later.