Who doesn't need a bigger, better view of the area when trying to find the perfect hotel, flight, or restaurant? Nobody, that's who. TripAdvisor clearly came to the same conclusion, as the company has added an iPad interface and a couple of other perks to its free iOS app.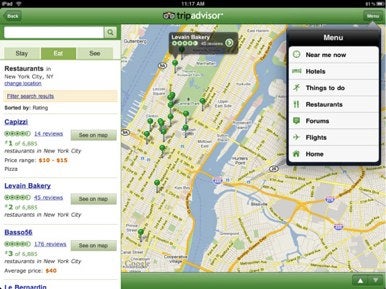 The biggest change to TripAdvisor is easily the more expansive iPad interface. Like most iPad apps, the new TripAdvisor app makes use of all that extra screen real estate by displaying more information at once, for example providing a list of your search results alongside a map of their locations. Other tools, like the option to display events and other items "near me now," are also easily accessible.
iPhone users weren't left wandering aimlessly with this update, though, as they can now enjoy easier navigation between lists and the map. In addition, users can now upload photos from their device's camera roll or snap them on the spot for sharing.
TripAdvisor 5.2 for iPhone and iPad is available now in the App Store for the low, low price of free. You'll need one of Apple's mobile devices running iOS 3.0 or later.