Last August, Google introduced the ability to make and receive phone calls from within Gmail. At that time, the company made all calls to the United States and Canada free for the rest of 2010. On Monday, Google announced that it's extending the free calling offer throughout all of 2011.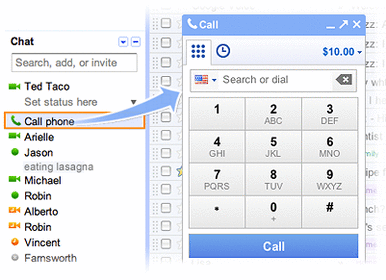 To make calls inside Gmail, you simply type in the number you'd like to call, and Google makes the connection using VoIP technology. If you use Google Voice, you can connect Gmail to your Google Voice phone number, so that Gmail starts ringing when your number gets called. If you don't use the free Google Voice service, you can still place calls within Gmail, though you lack control over the number you'll appear to be calling from.
You can also place calls in Gmail to numbers outside the United States and Canada, but those calls will cost you.
Gmail calling is currently available only to users in the United States.