At a Glance
Expert's Rating
Pros
Good design
Incredibly lightweight
Fast copy and duplication speeds
Cons
Slightly expensive
Subpar results in Photoshop
Our Verdict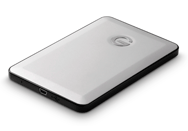 With so many USB storage devices on the market, it's tough for new models to stand out–and any new external hard drive needs a good gimmick to get ahead of the competition. To that end, Hitachi introduces its new G-Drive Slim—it's billed as "the world's thinnest 2.5-inch external hard drive," and you can only buy it at your local Apple Store (unless, of course, you shop online).
To its credit, the G-Drive Slim is a spiffy looking device. Instead of the glossy, fingerprint-prone shell that you might see on a Seagate FreeAgent GoFlex ( ) or the Iomega eGo ( ), the G-Drive Slim is enclosed with a nice gunmetal finish and a rubber ring around the edge. It won't catch your eye from store shelves, but it's suitable for any office setting. It also mirrors the MacBook line's aluminum design quite nicely and feels incredibly tactile, so you won't be prone to dropping it.
Hitachi's G-Drive is also an extreme featherweight contender. It weighs a mere .33 pounds and measures about 5.1 inches in length and 3.2 inches wide. If you want to nitpick, it's a bit wide, but I'd say that the G-Drive is actually a hair thinner than an iPhone 4. While it's probably not practical for people wearing tight jeans, the drive should still fit nicely in any jacket, briefcase, or backpack pocket.
Looks aside, the G-Drive is also pretty speedy at copying and duplicating data with its sole USB connection. Our speed tests averaged out at 37 seconds to copy a 1GB file and 57 seconds to duplicate the same file. As is typical for the G-Drive hard drive line, those transfer speeds are at the front of the pack. For comparison's sake, the Iomega Skin's ( ) copy speed also averages out at 37 seconds, which is the exact same result for the Seagate FreeAgent GoFlex 500GB, G-Drive Mobile USB ( ), and G-Drive Mobile 500GB ( ). On the duplication side, the Iomega Skin, G-Drive Mobile USB, and G-Drive 500GB all clock in at 57 seconds, while the Seagate FreeAgent GoFlex 500GB takes a full minute.
As a USB-only drive with an internal RPM speed of 5400 rpm, it's not surprising that while the copy/duplication speeds are strong, the Photoshop results are middling at best—the G-Drive Slim clocked in at 4 minutes and 17 seconds. While it's comparable to the recent Iomega and Seagate portable HDs, desktops, triple-interface portables, RAID storage devices are still the go-to drives for Photoshop work.
If you're watching your wallet, the only deterrent here might be the $99 retail tag. For the frugal shopper, $0.31 per gigabyte isn't a great deal, especially when Iomega's eGo USB provides 500GB of storage for the same price (and less if you buy online). Seagate sells their basic FreeAgent GoFlex USB 500GB package for $69 and the Iomega Skin's an even cheaper deal at just $0.12 per gigabyte, which is about $60 for same amount of storage. No matter how you slice it, the G-Drive Slim isn't the most cost effective option, and you're really paying a bit of a premium for the form factor.
Even though it's sold exclusively at Apple Stores and pre-formatted for Macs, the G-Drive Slim is still all-around good choice for anyone that wants a USB-centric storage device. Sure, the $99 price tag is a little much for a paltry 320GB of space, but the small, lightweight design and fast data transfer speeds might just be worth the extra cash for "the world's thinnest" external hard drive.
Macworld's buying advice
Aside from its compact design, the G-Drive Slim doesn't visually set itself apart from the pack, and it carries a slightly stiff price tag. But although it's marketed as a companion external hard drive for MacBook Air users, it's nonetheless a sleek, speedy option for anyone needing ultra-portable USB storage.
[McKinley Noble is a Macworld editorial intern.]