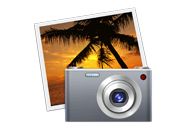 iPhoto '11 users got an early holiday gift on Tuesday as Apple released iPhoto 9.1.1, the latest update to the company's consumer photo software.
Overall, iPhoto 9.1.1's focus is stability, but it throws a couple feature enhancements into the mix. For example, users now have the option to send photos using an external e-mail client instead of only being able to do so through iPhoto itself. Apple's also added a pair of new e-mail themes—Classic and Journal—and an option that allows photo attachments to be scaled to Small, Medium, or Large sizes.
Among the bug fixes in iPhoto 9.1.1 are improved reliability when upgrading your library from a previous version, correct preservation of Events sort order after upgrading, a fix for an issue where duplicate photos ended up being added to a MobileMe album, and resolution for a problem where text-formatting controls became inaccessible when editing a calendar. In addition, Event titles displayed in headers can be edited in the Photos view, the scrolling overlay correctly displays ratings when photos are sorted by rating, and photos are now sorted correctly when you change a rating and then sort the photos by rating.
Apple recommends the 62.09MB update for all users of iPhoto '11; iPhoto 9.1.1 requires Mac OS X 10.6.3 or later and can be downloaded via Software Update or from Apple's support downloads site.