The holidays are a time for traditions and, like clockwork, Acclivity has released AccountEdge 2011, the latest version of its small business accounting software. The application is rife with new features; most notable among them are Web-based time-tracking capabilities, advanced support for paying retainers, and a brand new iOS app.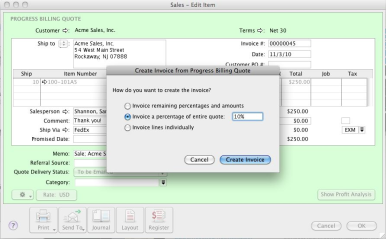 The new Web-based Time Tracker for AccountEdge allows employees to submit time sheets and activity slips from anywhere with an Internet connection; those time sheets then sync with the desktop application. The service makes for quick, easy billing, but also makes sure that users can only access needed files, so payment records remain secure. While a "modest" subscription price for Time Tracker is yet to be announced, the service is currently free in beta.
For businesses that require retainer management, AccountEdge has added support for handling those payments. The program lets retainers add expenses and maintain a minimum retainer balance. Retainer statements are also readily available via single-click printing.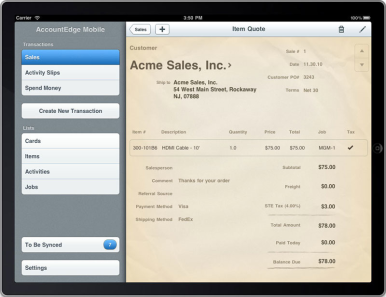 Further access to AccountEdge 2011 is also available through Acclivity's new free iOS app, AcountEdge Mobile. Available currently for iPad (and arriving on the iPhone soon), the app enhances the mobile features of the latest version of the software. From AccountEdge Mobile, users will be able to record sales, access and edit contact information, and enter expenses. All activity from the app syncs with the desktop version of the program.
Additional features include an updated search, the ability to create an invoice from a purchase, and progress billing capabilities that allow for work to be billed as completed. Ultimately, the updates to the software serve to make AccountEdge more accessible and mobile.
AccountEdge 2011 is compatible with Mac OS X 10.4 Tiger or highter; customers can upgrade or purchase the software from the Website for $159 and $299, respectively. Users can try AccountEdge for free by filling out a form on the company's Website.