The "what's around me right now" app market has quite a few entries already, from AroundMe to big hitters like Where To?. But newcomer Localscope hopes to differentiate by offering a choice in the services you search, and wrapping everything up with a thick coat of style.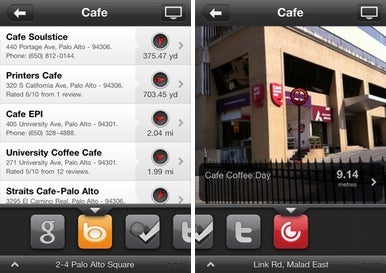 Localscope seems to cover the basic features pretty well: you can view search results in a list or on a map, call a destination, and get directions. But it offers one feature that I haven't seen in many competitors—the ability to choose which services you search. You can chose from Google, Bing, Foursquare, Twitter, and even Wikimapia, a relatively new service that essentially combines Google Maps with a wiki system for adding information about locations. An augmented reality view offers a third option for visualizing your search results beyond a simple list or flat, old-school map.
You can also pick an address or location other than your current one by selecting from among your contacts or by navigating the built-in map. Your recent and favorite search queries are easily accessible, and you can share a link to locations you find via Facebook, Twitter, SMS, and e-mail.
Localscope is available now for $1 and requires an iPhone or iPod touch running iOS 4.0 or later.