Synology America Corp on Tuesday announced the release of its newest server, the Disk Station DS1511+. Synology, a manufacturer of network attached storage devices for homes and businesses, has a reputation for creating feature-rich NAS solutions for a variety of audiences, and this latest unit should satisfy small businesses, prosumers, and network administrators. Capable of storing up to 15TB of data, this expansive NAS device is for those with serious storage demands.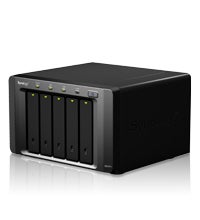 The $900 DS1511+ is the successor to Synology's DS1010+ server model. Alone, the new device can hold up to five 3TB SATA hard drives that can be configured in a variety of RAID arrays for maximum performance or maximum redundancy. When it is connected with two of Synology's DX510 server storage expansion units, it can manage and process the storage of a whopping 15 3TB drives. According to Synology's press materials, in a RAID 5 configuration the DS1511+ can write the drives at a rate 165.91 MB/sec, and reads them at 197.8 MB/sec. The device is also reportedly able to host up to 30 websites on its hard drives.
The new server runs Synology's Disk Station Manager (DSM) 3.0 operating system. The DSM 3.0's user interface (UI) is designed to look like a common household desktop UI, and sports features such as multi-tasking, multimedia streaming, and Time-Machine-like back-up options. According to Synology, the UI's User Home Feature makes it easy for office administrators to create secure, shared folders for a large amount of server users to access information from. The DSM 3.0 can be remotely accessed via any Windows, Mac, or Linux workstation. Information from the server can also be retrieved via apps for the iPhone and Android smart phones.
Besides a normal storage device, the DS1511+ can also be utilized as a surveillance storage device. It can connect with up to 700 models of IP surveillance cameras so offices and homes can be appropriately protected.
Synology claims that it designs its storage devices with energy efficiency in mind. According to the company, the DS1511+ only consumes about 68 watts while operating, and 30 watts while in hibernation. It is a compact device with a size (HxWxD) of 157mm X 248mm X 233mm, and a weight of 4.25kg.
The DS1511+ is available now and comes with 3-year warranty on the product, as well as technical support for it, at no extra cost.