It's unavoidable: During the holidays, someone is bound to get out a camera to grab some festive snapshots. If you're the person with camera duties, then you should follow some of these photo guidelines. If you're not the person shooting, then you can offer these suggestions from in front of the camera. Really, people love that.
Play with group composition
When it comes time to shoot the entire family, don't just line them up against the wall, execution-style. Instead try some more complex or natural compositions. Mixing up sitting and standing can be a nice option, and don't forget that not everyone has to be on the same plane. Lines of people stretching toward the camera can be interesting to play with.
Take portraits at the right distance
If you decide to shoot some portraits—or even just small groups of people—be very careful about where you choose to stand. You'll get more flattering results if you stand farther away from your subjects and zoom in than if you stand very close and zoom out.
Use fill flash indoors
Since you'll be doing a lot of shooting indoors, you'll need to be careful of windows. Shooting someone in front of a window during the day can present bad back-lighting problems—the camera will expose for the bright window, leaving your subject underexposed and lost in shadow.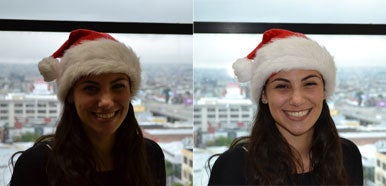 You can remedy this in several ways. Turning on your camera's fill flash is probably the easiest solution. You can also use exposure compensation to over-expose your shot. You'll blow out the background to complete white, but your subject will be visible. Finally, if your camera offers a spot meter, that's often a good solution. If you're not comfortable playing with any of these controls, check your camera's manual for more details.
Shoot lights with slow sync flash
When you get ready to shoot people in front of a light-laden tree or building, it's best to take your camera out of Auto mode and activate its Slow Sync Flash mode—sometimes referred to as Night Shooting, Night Portrait, or Night Flash mode. This will fire the camera's flash while shooting with a long exposure. To keep your subjects from becoming blurred, be sure to tell everyone in the shot to stand still until you finish. Remember, your shot isn't over when the camera flashes. You have to wait for its long exposure to finish, as well. A tripod is also an important tool for these slow sync shots.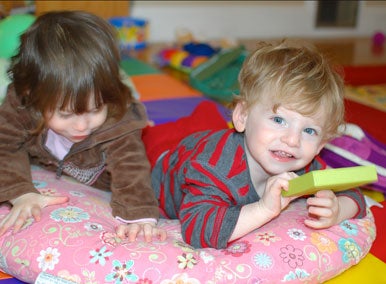 Photograph kids down low
The best way to shoot kids is to get on their level. Getting down on your knees a good option (balancing children on high surfaces, however, is not recommended). Once you're at eye-level, mix it up. Get in really close and shoot with a wide angle, and then try further away, zoomed in. Kids tend to move a lot, especially when excited by new loot, so this is a good chance to play with shutter speed, and experiment with freezing and blurring motion.
Keep your camera safe in cold weather
If you're experiencing the joys of a white Christmas, you should be careful when taking your camera in and out of the cold. If the camera gets very cold, and you then bring it directly into a warm house, condensation can form and fog the lens. Usually this won't permanently damage the camera, but it can prevent you from shooting for a while. To avoid condensation, keep a ziplock bag with you and put the camera in it before you come back indoors. Leave it there for about 20 minutes, until the camera has had time to come up to warm up to room temperature. Also, keep in mind that cold weather will shorten battery life.
[Macworld senior contributor Ben Long is the author of Complete Digital Photography, fifth edition (Charles River Media, 2009).]
Editor's Note: This article was first published in 2010, and is one of our holiday how-to favorites.