From the moment it debuted for iOS, the free Netflix video-streaming app has been a must-have for nearly all owners of Apple's tablet. The streaming and DVD rental service offers a large library that can be streamed over Wi-Fi and 3G, in addition to several original programs financed and produced by the company itself.
The concept behind the app is fairly simple: those with Netflix accounts ( which start at $8 a month) can stream any of the company's movies, television shows, or documentaries available via its Watch Instantly service to an iOS device. (Depending on your country, available programming varies.) The iPhone and iPad versions differ slightly in their implementation and extra features, but if you're looking to watch a Netflix television show on the fly, this app will allow you to do it on either device.
You can stream films or shows on your iPhone's Wi-Fi or cellular network. Wi-Fi is—without argument—the easiest way to watch a program; I rarely ran into glitches when watching over that connection. In contrast, cellular is decidedly trickier: the videos take a longer time to load, image and sound quality can suffer, and weaker signals can cause the feed to cut out.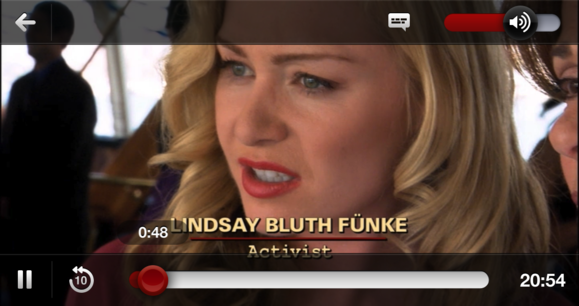 If you encounter a stall, Netflix does provide a recall button within the viewer for moving the feed 30 seconds back, so you can theoretically catch up with the stream. You can also pause and scrub through video, toggle between full and widescreen modes, enable captions, and exit back to the Netflix browser at any point. The Netflix app also supports Video-Out and AirPlay, so if you happen to have an Apple TV or one of Apple's AV cables on hand, you can send video from your iPhone to your television.
Netflix on the iPhone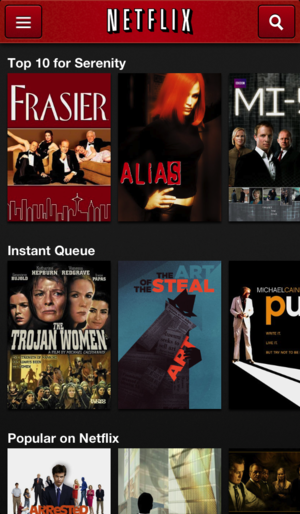 The iPhone and iPod touch version of the app is designed to showcase Netflix's Watch Instantly titles. The app organizes custom carousels of movie and TV show posters based on your past viewing preferences and tastes, your Instant Queue, and what's popular on Netflix. If you hook in with Facebook—which you can do by tapping the Connect To Facebook banner in the last carousel on the screen—you can also see what your friends have recently watched.
If you're interested in looking at a particular genre or searching for a specific video, you can tap the horizontal line button in the top left of the toolbar or the magnifying glass button in the top right.
Tap on a poster, and you're brought to the movie or TV show's information and streaming page. Here, you can view the title's rating, year released, and length, along with a brief summary. (If you want to enter in your own rating for the title, tap the amount of stars you want to give it—from one to five.) Tap the video's poster to watch it now, or tap the Instant Queue button to add it to your queue.
Below the summary, movies offer a carousel with similar films you might enjoy; TV shows have a drop-down menu for seasons along with a per-episode listing and play button.
Unfortunately, once you've added a film or TV show to your Instant Queue, there's no way to organize it from the app—to find it, you'll have to swipe through the Instant Queue carousel on the homepage until you reach the end. There's also no way to adjust your settings or access any of Netflix's DVD-only titles.
You know, for kids
The iPad app is almost identical to its iPhone cousin, save for one additional feature: Just For Kids mode, which limits searching in the app to kid-friendly cartoons and titles.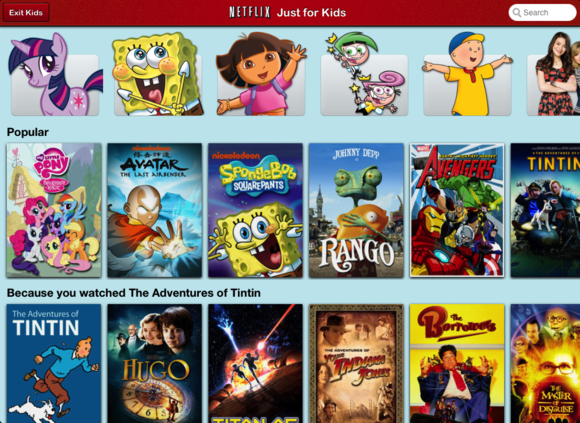 Popular cartoons like My Little Pony and Spongebob Squarepants line the top of the app, with carousels of recommended content below. To exit Just For Kids, you have to tap the small Exit Kids button in the top left of the screen—and then tap a small Yes? slider to confirm your choice.
The section is a nice option for frazzled parents in a car ride—they can hand their child the app with Just For Kids enabled (and perhaps flip on iOS 6's Guided Access, so the child can't exit to the main Netflix screen), and not worry about them accidentally watching an episode of the West Wing or Arrested Development.
Bottom line
All in all, the free Netflix app provides a wonderful service, but you may find it frustrating not being able to manage your queue or adjust your other settings. That said, the app remains the sole way to stream Netflix on your iOS device, and that feature alone makes the download worth it.
Updated on 4/17/2013 to reflect changes to the iPad app and the addition of the Just for Kids section.