The original Real Racing set the standard for racing games on iPhone and iPod touch — a very high standard. Real Racing 2 manages to raise the bar even further to bring you possibly the best racing game available for iOS so far.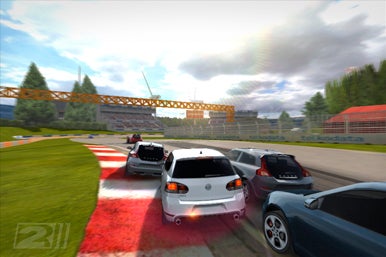 Real Racing 2 from Firemint builds upon the very successful and highly rated Real Racing by improving on just about everything the original offered and adding much, more more. The most obvious addition is the inclusion of licensed cars. There are 30 beautifully detailed cars to choose from among 9 manufacturers like BMW, Ford, and Nissan. Race among 16 cars (up from 6) across 15 locations in 4 different game modes: career, quick race, time trial, and local wifi and online multiplayer. In career mode, you complete races to earn money and reputation points. Use your money to purchase cars or customize the ones you own, and reputation points help you qualify for more challenging divisions and races.
Fortunately, frame-rates don't suffer at all from the detailed tracks, gorgeous environments, and 16 car grids. The action is buttery smooth and Retina display sharp on iPhone 4 or 4th generation iPod touch. If you have an older iOS device, the game supports those models too albeit with a reduction in resolution. Steering is precise with accelerometer control, and there are six other tunable control methods from which to choose. The career mode is good for many hours of gameplay, and once you're comfortable with your skills, go online for 16-player races.
Real Racing 2 is the most visually stunning, feature-complete racing game for iOS. At $9.99, it is priced as a premium game title, and it is well worth that premium. Firemint has delivered another winner in Real Racing 2.
Real Racing 2 is compatible with iPhone, iPod touch, and iPad running iOS 3.1 or later.
[James Savage is the host of the RetroMacCast a weekly podcast devoted to older Macintosh computers.]