Do you have a budding astronomer in the family? Touch Press on Tuesday released Solar System for iPad, an interactive e-book that follows up on its popular The Elements: A Visual Exploration, which Touch Press says has sold more than 160,000 copies.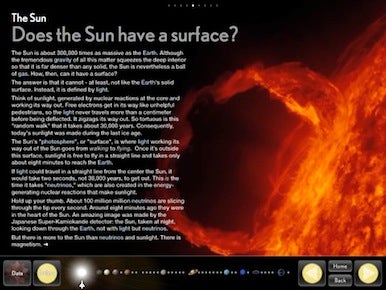 Solar System opens with a splash page showing a periodic table-style layout of major objects in the solar system, with the Sun and all eight planets occupying the top row. (Yes, Virginia, I said eight planets; Pluto was demoted to the second row, classified under the Kuiper Belt where it spends most of its time.) These images navigate to 150 pages of detailed information, alongside colorful technical illustrations by Joe Zeff Design and videos of the object in question. Solar System keeps pages updated with the latest information about these objects from the Wolfram|Alpha search engine.
There's also a musical touch—a commissioned song by Björk somewhat oddly accompanies the splash page. It may not be memorable enough for the next Voyager record, but while you're using this app you will atypically have sound in space.
Solar System for iPad is available now for $14, and requires an iPad with iOS 3.2 or later.