Gameloft has produced a nearly flawless anime-style RPG in Eternal Legacy. Eternal Legacy draws obvious inspiration from Square Enix's Final Fantasy series, but who cares—it's honestly one of the most well-made, beautiful RPG games I've seen on the mobile platform.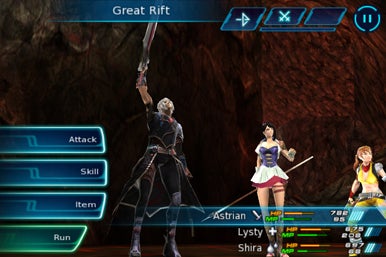 You are Astrian, rugged rebel hero (who looks almost exactly like Cloud Strife, right down to the giant sword) trying to save your world from a corrupt leader. Of course, then you meet said leader's pretty daughter Lysty, convince her of your purpose, and embark on a journey across the land of Algoad in search of powerful Varsh stones.
Gameplay is intuitive, familiar, and well executed. The main screen features a responsive virtual joypad and a dynamic action button, and you can also swipe your finger around the screen to look around. A blue arrow next to your character guides you in the direction you need to go in order to complete quests and objectives.
Monsters move around in plain site, so it's possible—though not always easy—to avoid random battles. Battles are turn-based, but you are able to line up three actions at a time. As you progress on your journey, various characters will join your party. You can only have three "active" party members at a time, and each character can be customized to fight according to a specific profile (berserker, healer, defender, etc). Assuming your fights aren't directly back-to-back, your mana and health will recharge fully for the next battle.
The visual aspect of this game is absolutely worth noting—this is by far the most beautiful game I've seen on the iOS platform. The world of Algoad is rich in details and vibrant colors, and there are plenty of side quests and nooks to explore. The cutscenes are also gorgeous—complete with an intriguing story and voice acting—and you'll definitely want to watch them. I'm half-inclined to drop $10 on the iPad version, just so I can see the graphics in all their glory.
In short, Eternal Legacy reminds me of why I love RPGs—not only does it have gorgeous scenery, an interesting storyline, and seamless gameplay, but it's well-adapted for the platform. The only very, very minor complaint I have is that you can't see the enemy's health bar in battles—but this is only an annoyance, not a serious flaw.
If you even sort of liked Final Fantasy, and you own an iPhone, you should buy this game right now.
[Sarah Jacobsson is a frequent contributor to Macworld.]