As enjoyable as it can be to add fun edits to your images, being able to easily manage and share your work is an important way to complete the experience of dealing with your photos and videos. The three reasonably priced applications I discuss here will help keep your work organized and ready to be shared online.
Consolidate your uploads
Most people upload their photos and videos to the same places over and over again. Realmac Software's Courier ($20) simplifies the uploading process for a variety of sites, and also allows you to quickly and easily send files to your favorite sites at the same time with a few clicks. It works by linking to the sites where you usually share content: Flickr, YouTube, Vimeo, Facebook, Amazon's S3 storage, Realmac's Ember image-hosting service, and even an FTP site. After your accounts are linked, Courier creates a new envelope to hold the content to be uploaded. The accounts that you want these files sent to are the stamps that are added to the envelope.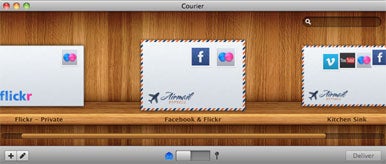 You can set up a variety of envelopes for different combinations of sites. For example, you could have one envelope for Facebook, Vimeo, and YouTube, and use it when you want to upload video. Another envelope could be for Flickr and Facebook, if you're looking to easily share an image in both places at once. You can set privacy settings for each account on an envelope-by-envelope basis—for example, you could have a Flickr envelope for photos that are only visible to Friends and Family.
For slightly more-advanced users, Courier integrates with the Finder and shows up under the Services menu when you Control-click (or right-click) on a file. This means that if you have a video clip on your desktop that you want to quickly send to Facebook, you're just a Control-click away from choosing your "Deliver to Facebook" envelope. Realmac offers a free trial version with an upload limit, so you can try it before you decide whether you'd like to purchase it.
Bring Flickr to your desktop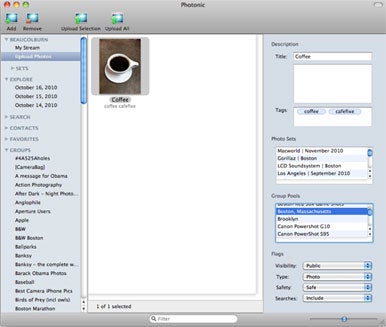 Flickr is one of the most popular photo-sharing communities on the Internet. Barton Springs Software's Photonic ($25; free trial) brings many of the most popular aspects of the Web-based service to a desktop app. With Photonic, users can access familiar Flickr features such as browsing photos that their contacts have uploaded, sharing and viewing photos in themed groups, searching for specific images by keyword, and browsing interesting images in the daily Explore section.
If you use iPhoto, Photonic will feel familiar. The application's left source list displays the common Flickr sections (Contacts, Groups, Explore). You can click on any of these sections to view the images within. You can also browse your own photo stream, or view the sets you have created.
Photonic makes it as easy to upload photos as it does to browse them. When you choose to upload images, drag as many images as you'd like to the upload window that appears. You can tag each image, give each a custom name and description, and set an image's privacy level. You can also add an image to one of your existing photo sets, and submit it to any of the photo groups that you're a member of. There are a few minor features that are missing from the app, such as the abilities to create a new photo set at the time of upload and to view the most recent photos uploaded by your contacts, but overall Photonic does a great job of bringing the Flickr experience to a Mac OS X application. The program costs $25, but you can try it out for free for 14 days.
Manage multiple iPhoto libraries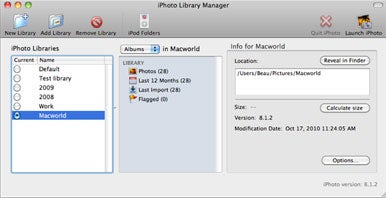 If you're an iPhoto user, there are a number of reasons it can make sense to have multiple iPhoto libraries. For example, you might have limited storage space on a notebook, or find that breaking up your library by year or event makes for easier backups. Fat Cat Software's iPhoto Library Manager ($20; free trial with restrictions) makes the process of dealing with more than the default iPhoto library pain-free, and it is now compatible with both iPhoto '09 and iPhoto '11.
iPhoto Library Manager acts very much like a control panel, through which you can create new libraries, choose which library you would like iPhoto to open, and adjust where your libraries are stored. The application also provides greatly simplified and streamlined features such as merging libraries, copying photos from one library to another, a splitting large libraries into smaller ones that are easier to deal with.
These changes can be done manually with just iPhoto and the Finder, but require many steps, whereas with iPhoto Library Manager, you can do the same thing with a few clicks. You can also create library shortcuts, that act like OS X file aliases. These can be stored anywhere you like (on your desktop or sidebar, for example). When clicked, these shortcuts launch the specific iPhoto library. This is a more direct route than holding the Option key while launching iPhoto—the default method of choosing which library to launch—and is a helpful way of quickly launching your most commonly used libraries. It's possible to manage multiple iPhoto libraries just through the Finder and iPhoto, but there are a number of areas where things can go wrong if you don't pay attention.
iPhoto Library Manager is a great compliment to iPhoto that will make the entire library organization process smoother for most users.
[Macworld Contributor Beau Colburn lives in Boston and posts iPhone photos on his site Snap different.]