On Wednesday, computer and portable device accessories maker Newer Technology announced the release of its NuStand Alloy iPad and Mac Mini stands. The new stands are available now for $25 each.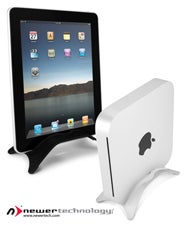 The iPad edition of the NuStand Alloy is made for easy portability. Its black aluminum body weighs only 3.5 ounces, and it stands only about two inches off the ground. It's shaped like a miniature coffee table, and on its surface is a silicone grip that can fasten an iPad in place upright either vertically or horizontally. Though it can firmly secure an iPad, the Alloy is built not to obstruct access to the device's ports or buttons. No need to worry the stand will slide around surfaces either, as it can stay in-place thanks to four rubber feet. The NuStand is designed to work with iPads in thin cases, and Newer Tech hopes users of the device will make it their "semi-permanent" iPad dock.
The Mac mini NuStand Alloy is slightly different from its iPad counterpart. While it weighs the same as the iPad version, and offers similar features, its base is slightly wider to accommodate a 2010 Mac mini ( ) on its side, and it sits lower to the ground. With its vertical orientation, Newer Tech hopes the product will allow users to finally clear some much needed desktop/home theater cabinet space in their living or work areas.
NuStand Alloy for Apple iPad
NuStand Alloy for Apple Mac mini