Since Angry Birds came out nearly a year ago, it seems like every iPhone developer out there has been trying to copy it. Pirates vs. Ninjas vs. Zombies vs. Pandas, from Tactile Entertainment, is the latest mimic of the classic avian puzzle game. Though it is quite similar to Angry Birds, and captures the spirit of the popular game, PvNvZvP suffers some fatal flaws that ensure Angry Birds will remain safely atop its best-seller perch.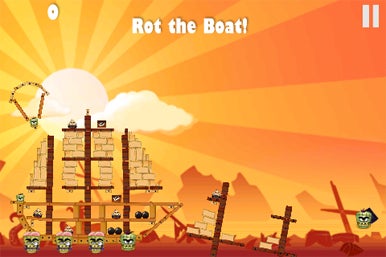 As you can probably guess from the title, the game is about a feud between Pirates, Ninjas, Zombies and Pandas. I have gathered from the game's introductory video that the feud began when the pirates raided an island occupied by the other three title species. The raid caused a chain reaction of sorts that made the three, previously peaceful island residents, begin to attack each other.
On each 2-D level, you'll use a cannon on either the left or right side of the screen to assault a structure in the center of your screen. You have to take your finger, place it on the cannon, adjust its angle appropriately, and then shoot a member of one of the other three title species at the structure. Your objective is to damage the structure so that in its collapse, the destruction will kill all the creatures protected inside it. You normally get about five tries to destroy a level building. The less time you take to destroy a level's architecture, the more points you receive at the end of the level. The points help you progress to new levels.
Each of the title species have special abilities that help you destroy structures with relative ease. After being shot out of a cannon, pandas can use flatulence to propel themselves further out of the cannon's range. While in air, Ninjas can do karate chops and rain down large amounts of force onto structures. Zombies, in mid air, can shoot bombs from their persons. Pirates can light some game structures on fire.
PvNvZvP currently comes with 45 levels for you to complete. The levels are separated into four categories with each species getting their turn as the victims/antagonists.
What I like about PvNvZvP is that you actually have to put thought into how you play it. In a level, you can't just shoot a species at a structure randomly or without purpose and hope that your shot will actually destroy it. You do have to learn structure pressure points, learn appropriate canon firing techniques, and learn the species' abilities to best destroy a level building.
Unfortunately, PvNvZvP comes with a few problems. For starters, I found that game levels take forever to realize you've completed them. In some cases, I was able to continue playing levels long after I had finished their objectives.
Often, when I tried to load a level's cannon, PvNvZvP froze on me. After tapping my third generation iPod Touch a few times, I was able to get the game to unfreeze, but that tapping action got annoying.
The game allows you to zoom in, or out, on level environments. Unfortunately, the zoom is very sensitive. Most finger gestures you make for the game will active the zoom un-expectantly. The difficult zoom makes it hard to adjust cannons appropriately, and thus makes it hard to destroy level structures.
Though Pirates vs. Ninjas vs. Zombies vs. Pandas is spiritually similar to Angry Birds, unless its developers fail to fix some big bugs in the game, it will never be able to achieve the brilliance, or popularity of the avian puzzle game. While PvNvZvP has some nice moments, its glaring flaws should deter you from downloading it.
[Sam Felsing is an editorial intern at Macworld.]