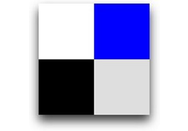 The bad news recently arrived that Yahoo, the struggling search/media/something-or-other Internet giant, let go about 700 staff members. The company is also shuttering a handful of products— Delicious, a popular online bookmarking service used widely in Mac and iOS apps, was rumored to be on the "sunset" list, but Yahoo changed its mind. Still, with the future of Delicious in the air, social bookmarkers may feel like Yahoo is leaving your treasure trove of links hanging in the cloud.
Since Delicious is, at its core, a Web-based service that was made more useful with Mac and iPhone apps, let's start there. Delicious has a number of diverse Web-based alternatives that offer varying features, and some are more popular than others among third-party apps like bookmarking utilities and newsreaders. The services I listed also have at least one Mac or iPhone client, but if you're looking for Mac-only desktop apps, move on to the next section farther below.
Web-based alternatives
Pinboard is probably your best shot in terms of making the most lateral move from Delicious's interface and features (I switched to Pinboard a while ago). Its Website is very straightforward and stays out of your way, and it helps you get over the first big hurdle with instructions on exporting your Delicious bookmarks and importing them into Pinboard. It offers a ton of features Delicious never did, like automatically collecting links you share on your Twitter and Instapaper accounts, downloading full copies of your bookmarked pages for archival and offline viewing (a paid upgrade option), and placemarks for map locations, not just URLs. Plus, Pinboard already has steam with third-party developers, as a number of Mac and iPhone clients already support it, including Delibar and Reeder, as well as dedicated iPad browsers like Skyfire and Cyberspace. The one potential downside for some Delicious refugees is that Pinboard charges a small one-time signup fee to cover server costs and pay employees, and a few premium features (like offline archives of Webpages) cost an upgrade fee. On the upside, that fee should go a long way towards helping Pinboard to keep the lights on better than Yahoo did with Delicious.

Xmarks is another fairly lateral move in terms of features and familiarity, though with a slight twist. While Xmarks is Web-based, it is primarily a service for syncing your bookmarks between all your browsers and computers. The company offers plugins for Safari, Firefox, Chrome, and even Internet Explorer, and you can also access your bookmarks online, just like Delicious, at Xmarks.com. You may lose some of the organizational flexibility that Delicious (and other services mentioned here) offer since most browsers (and Xmarks, by extension) use traditional bookmark folders instead of tags. But Xmarks has a freemium model that's tuned pretty well for all users. Almost all of the service's most popular features are free, but if you want a couple of upgrades like a client for your iPhone or Android phone, or the ability to sync your open tabs between browsers and computers, Xmarks's premium plan is just $12 per year. Xmarks also just launched its full Delicious import tool for a smooth transition.
Zootool takes a step away from the heavily textual interfaces of Delicious and Pinboard, bringing a more visual layer to the experience while remaining focused on bookmarking. I haven't used it personally yet, but it's a Web-based service with an emphasis on putting a face to your bookmarks's names, so to speak. It's free for now, and I've seen it appearing lately as an option in some third-party clients such as Reeder.
Evernote is probably the next best alternative to Delicious, though its approach is different in a number of ways. Evernote is billed as "your digital brain," and the Web, desktop, and mobile clients the company offers are designed around managing not just bookmarks, but PDFs, task lists, images, and just about any type of file, too. Though Evernote's feature set and, by extension, interfaces are different and broader than Delicious, you gain stability in the form of service longevity (Evernote as a company is close to profitability) and popularity, as it, too, is supported by a variety of third-party apps and even has a couple of dedicated third-party clients, despite its own home-grown app for iPhone and iPad. And speaking of price, Evernote offers a free plan with a generous amount of features and monthly upload quota, as well as a paid plan with useful perks.
Springpad is another "digital brain" style app that is geared towards managing bookmarks and other types of information. It offers only a Web-based client on traditional computers (though it's pretty slick, and better than Evernote's), but the company makes dedicated apps for the iPhone, iPad, and Android OS. Springpad is free right now, though I imagine it will offer some kind of upgraded, paid plans down the road like Evernote.
Mac alternatives
Before we get into Mac-only bookmarking apps that don't work or sync with a Web service, it's worth pointing out that Delicious has had clients and utilities on the Mac for ages, such as Sci-Fi Hi-Fi's Cocoalicious, Code Sorcery Workshop's Pukka, Shiny Frog's Delibar, and a handful of add-ons for Safari and Firefox. I expect that some will add support for Pinboard and other Delicious competitors, and Delibar for both Mac and iPhone adopted Pinboard some time ago. In fact, Delibar has been my tool of choice for a couple years now, as it's a great client for bookmarking, searching, and sharing your bookmarks via e-mail and Twitter.
If you're looking for a way to bookmark or archive important Web pages without needing a Web-based service for an intermediary, you're in luck. Of course, you can always use your browser's good ol' bookmark features, so I'm focusing here on apps that offer something different or additional features to make bookmarks more useful. Many of these Mac apps are designed to store PDFs, images, task lists, and more, though, so I'll start with the bookmark-only options and work up from there.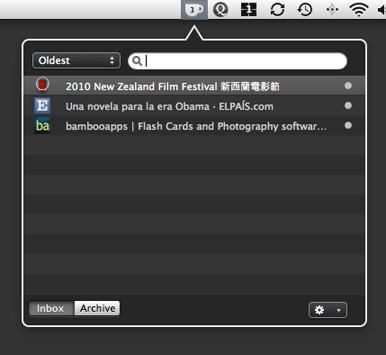 Quiet Read is a good option if you just want to store links that are important enough to read at another time, but not keepers for your browser's built-in bookmarks list. It also has a free version with a typical array of features, and a license unlocks even more features, integration with Pinboard (if you want to take your bookmarks online), exporting to Excel and HTML file formats, and more.
BookMacster takes an approach similar to Xmarks, as it acts as an intermediary for syncing your bookmarks between browsers, sans a Web service. It works with Safari, Firefox, Chrome, Camino, iCab, Opera, and OmniWeb, and can optionally send bookmarks to Pinboard and Google Bookmarks. BookMacster can also sync your bookmarks between your Macs via Dropbox or Jungle Disk. If BookMacster fits into your workflow, a license is $23.
The rest of your Mac-based options for storing bookmarks take the Mail/iTunes route, so they offer more than just bookmarking. They are generally beefier apps with large window interfaces for organizing bookmarks alongside text notes, photos, PDFs, and other files. They stand out from each other with unique areas of focus, features, and other perks, but in the big picture they are your typical digital filing cabinet.
DEVONthink ($50), SOHO Notes ($40), and Yojimbo ($40) are all good options. They're long-standing Mac apps that do bookmarking and Webpage archiving, and they all now have optional iOS companions that sync over your local Wi-Fi network instead of a Web service. Together ($39) from Reinvented Software is also a good app, as it lets you organize bookmarks and Web archives, but it stores all your stuff in your home user directory using a plain folder and file system.
Closing thoughts
It's unfortunate that Yahoo never seemed to pay much interest to Delicious after purchasing it. While the service has a shot at staying alive, you have plenty of alternative options if you'd rather move on. Are there any Web services with Mac or iPhone clients that we missed? You know where to sound off.