"How did it get to be two days before Christmas?" you mutter, probably while frantically searching across the Web for something—anything—for that special photography nut in your life. Luckily, if you act now, there are still some great presents you can snag and slip under the tree that don't involve embarrassed glances and IOUs.
Quick-ship camera equipment
If you want something tangible under the tree but don't feel like running head-on into mall mania on the 24th, everyone's favorite online superstore, Amazon, is here to help. The company is offering special offers for certain categories; for instance, if you're looking for a camera, lens, or some photography equipment, you may be able to score free one-day shipping.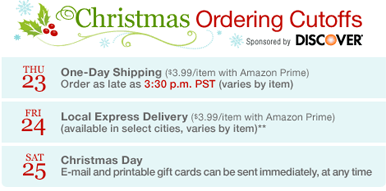 For other items, if you're willing to pay a premium (or if you have an Amazon Prime account), you can order as late as 3:30PM PST on the 23rd for delivery on Christmas Eve. Those lucky enough to live in major cities like Boston, Chicago, New York, and Washington DC may even be able to order the morning of the 24th for afternoon arrival using Amazon's Local Express Delivery service.
Photography software
In this day and age, you no longer have to use a physical disc to install the latest and greatest photography software; instead, many companies let you download it straight to a computer, where you can burn the software to a DVD, make a card with the download code, or stick it on a flash drive for some instant gifting gratification.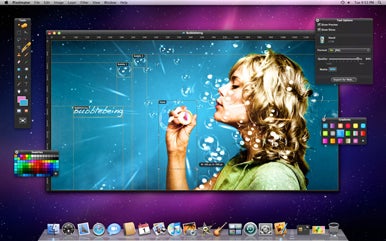 Most of Adobe's software is available for direct download from the company's Website, including great options like Photoshop Elements 9, Lightroom 3, and Photoshop CS5.
If your budget doesn't allow for something quite as extravagant, great Mac image editing apps like Pixelmator ($59) and Acorn ($50) and web apps like Picnik (free, $25 Pro version) offer similar tools to Photoshop without the hefty price tag.
You can also gift an effects program like CameraBag ($19, on sale for $15 during the holidays), which allows users to add retro film-like filters to their digital photos. Comic Life 2 ($30) is another great option for creative folk, allowing them to mash up photos and stock comic and cartoon effects.
Photo galleries and portfolios
Whether your giftee is a newbie photographer or a seasoned pro, chances are they're going to want a nice place online to show off their photos. Flickr, Yahoo's photo-sharing site, offers a yearly Pro membership for just $25 (or $48 for two years). Packaged within it: unlimited photo and HD video uploads, unlimited storage and bandwidth, original image archiving, photo replacement, ad-free browsing, and visit statistics.

Other gallery options include gifting a subscription for Apple's MobileMe service ($99/year) to a Mac user; with it, your recipient can build an online portfolio using iWeb, host public and private galleries synced with iPhoto or Aperture, and have a unique @me.com email address.
For those in need of a more professional option to display their multimedia, Carbonmade ($12/month) provides hosting, templates, and holds up to 50 projects, 500 images, and 10 videos.
Online courses and magazines
The true gift that keeps on giving? Education. You can bless your photography enthusiast with a subscription to Lynda.com, which features a whole host of online courses on all aspects of computing software, like Photoshop Elements, Lightroom, and iPhoto '11. Additionally, the Website has added brand new tutorials on camera techniques, such as (Macworld contributor) Ben Long's Foundations of Photography. Gift subscriptions start at $25 (for a month of tutorial access), and can be purchased from the Lynda.com Website.
For simple tips, tricks, and information on photography, you can't go wrong with a magazine subscription. Aperture ($20), Outdoor Photographer ($15 for one year, $26 for two years), Shutterbug ($18/$33), and professional photo periodical PDN ($65/$105) are all great choices. Alternatively, you can always pick up Macworld's Digital Photography Superguide in book, CD, or PDF form for some nice how-tos on buying and using a digital camera, editing photos, and showing your projects off to the world.
Make your online gifts exciting
Even if your thoughts are rushed, your presentation doesn't have to look it. Digital and online gifts allow for a surprising amount of flexibility—you can put a download code into a self-printed card, create an online scavenger hunt, buy a decorative flash drive, or any number of other creative ideas—all without having to leave the comfort of your own home. Who says last-minute shopping can't be fun?