Classic puzzle game Bejweled gets a makeover in PopCap's newest version of the game, Bejeweled 3. The original game, which was released in 2001, was also followed up by Bejeweled 2, Bejeweled Twist, and Bejeweled Blitz. This latest addition to the casual series brings fresh graphics, sounds, and all new modes of play.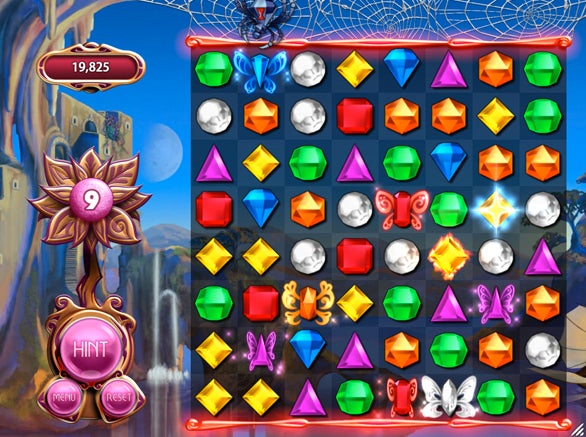 For those not familiar with the million-seller franchise, the game couldn't be easier to pick up: the screen is filled with a board stacked in rows of multicolored gems. You can swap two adjacent jewels' positions by clicking on them in order to make a row or column of three or more jewels of the same color. This makes them disappear and awards you points. Aligning a large number of gems earns extra points and bonuses. There's not much in Bejeweled 3 that's a huge departure from this core "match-3" concept. The game is basically a variety of modes that use the same basic concept with small tweaks for added difficulty or strategic maneuvering.
Still, Bejeweled 3 is packed with new ways to play the classic game. Among them are the brand new Poker, Ice Storm, Zen, and Butterfly Modes. In Poker, you are given ten rounds to create various "hands" of poker by matching the gems. This is easily one of the more difficult levels of the game, as you don't have much control over the outcome. I often found myself playing for a while, simply waiting and hoping for a good hand. In Ice Storm, the only way to keep the growing wall of ice at bay is by creating gem matches. This mode requires both speed of clicking and an awareness of the surroundings, as if one area of the board gets too cold, you'll get a game over.
Butterfly and Zen Mode were easily the most interesting aspects of the game. The idea behind the Zen Mode is that you can play an infinite game of Classic Mode with added sounds for relaxation. While I don't personally look to computer games when I need a bit of Zen, the ocean sounds, breath modulation, and positive affirmations (all adjustable in settings) definitely make for a unique Bejeweled experience. I found Butterfly mode to be the most enjoyable. Here, players must match designated butterfly jewels (marked by beautiful, shimmering wings) with their colored counterparts before they ascend the board where a hungry spider awaits. This mode requires careful planning, and you're often forced to save several butterflies at once (plus, as the poor things near the arachnid, they start to shake in fear, making me even more desperate to beat the level).
While there are plenty of other match-3 puzzle games out there, Bejeweled 3 demonstrates why the franchise is still at the top of the heap. The diamonds, rubies, and sapphires glint and sparkle as you play, and in classic mode, every time you level up, the jewels fly through a colorful cave towards the next scene. Not only are the graphics of the action aesthetically pleasing, but the detailed backdrops are not to be overlooked. Floating castles and waterfalls are well rendered, and I often found myself paying more attention to them than the visuals that actually affected my position on the scoreboard. As a whole, the high-definition graphics of Bejeweled 3 are beautiful and serene, making it hard to pick which is better: how the game looks or playing it.
Bejeweled 3 doesn't do anything particularly earth shattering and it doesn't re-invent the wheel—but it doesn't have to. The new modes are on the whole just fantastic. They all operate under the same rules and controls of the simple game, but require separate strategies and change in degrees of difficulty. I suspect that the key to PopCaps' success with this series lies within its high replay value. If this is the case, Bejeweled 3's new modes, sights, and sounds is certain to bring many converts over to the church of Bejeweled.
[Stephanie Kent is an editorial intern for Macworld.]