With over 50 million versions of Jenga sold since it was released over 25 years ago, there is a huge audience of fans wanting to know if NaturalMotion Games' Jenga for iPad stacks up.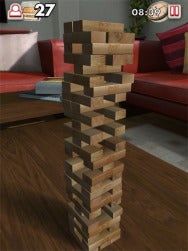 Just like the physical block game, you begin with 54 wooden blocks stacked in a tower of 18 levels of three blocks each. The objective is to systematically remove blocks from lower levels and add those blocks to the top to see how high you can build the tower. You can play alone or pass-and-play. Once the tower starts to topple and blocks hit the table, the game is over. Jenga for iPad also includes an arcade mode in which the blocks are different colors, and you race against a countdown clock to match colors or place blocks quickly to score additional points. Share scores via e-mail, online scoreboards, Facebook, or through Game Center integration.
For a game like Jenga, a virtual touch-screen version will never completely replace the original. Unlike the physical game, you get no immediate feedback as you probe for loose blocks, and there isn't quite the drama of a toppling tower when only a press of the screen cleans up and stacks the blocks for you. However, the iPad version does an excellent job despite being trapped behind a screen. Navigating around the tower is extremely smooth with intuitive pinch-to-zoom controls, taps to bump blocks, and drags to pull on them. Color highlights indicate how loose or tight a block is positioned in the tower—replacing what you would otherwise feel in the physical game. Most importantly, the physics are very well done. You really get a good sense of how the blocks are interacting with one another.
Jenga HD for iPad is an excellent physics game worthy of the Jenga name. If you're a Jenga fan, and you don't have the space to setup the real thing, you'll find Jenga HD is the next best thing.
Jenga HD is compatible with an iPad running iOS 3.2 or later.
[James Savage is the host of the RetroMacCast a weekly podcast devoted to older Macintosh computers. He yells out "Jenga" when the blocks come tumbling down.]